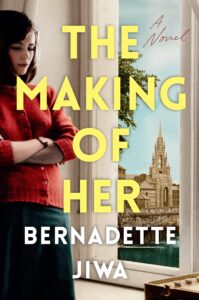 The Making Of Her is an interesting and engrossing, though ultimately inconsistent, novel about a middle-aged Irish woman finally coming to terms with giving up her baby daughter for adoption in her late teens. Jiwa explores a theme I tend to like: the corrosive power of secrets and how they can poison family dynamics for decades. While I enjoyed the setting and the dual timeline of The Making Of Her, however, I found that over time the book grew more superficial and less realistic.
Why I picked it up: I don't remember where I learned about this debut novel, but I put a library hold on it and somehow squeezed it into the TBR list.
Joan grew up poor in Ireland, but met a wealthy boy, Martin, and started dating him in her late teens, over his snobby mother's objections. When she became pregnant in 1966, Martin pressured her to give the baby up for adoption, even though he planned to marry her. She delivered the baby in London, but soon after, they moved back to Ireland to get married and start their lives together. Joan, however, never forgot about the baby she gave up, and spent the next twenty-five years resenting her husband and his refusal to talk about her or consider trying to find her. When The Making Of Her opens, Joan's second daughter, Carmel, has just turned twenty-five, and the girl she gave up, now named Emma, has finally reached out to her and asked to meet. The request, which comes with some strings, puts Joan's marriage under enormous strain as she wishes to finally reveal that she had another daughter and face the guilt, regret and shame she has felt ever since.
The first half of the book is handled pretty well – the depiction of Joan as a tightly coiled, aloof mother who has kept herself at arm's length from Carmel and her growing fury at Martin for his concern about appearances and his mother's approval. When the second half opens, Jiwa takes her readers back to the 60s to understand what happened in London and why Joan managed to stay with Martin despite her devastation over giving up their baby. Pushed to her limits, Joan finally comes clean to everyone about Emma, in the hopes of building a relationship with her and helping her in a time of need. That's when The Making Of Her grew less compelling. Jiwa rushed through the last section, only superficially addressing the complexity of the impact of Joan's revelation on both of her daughters. Everything tied up way too neatly, with the characters very quickly becoming comfortable with new truths and realities.
All that said, I was engrossed in the story and cared about what happened to these characters. I am glad I read The Making Of Her, despite its flaws, and would read more from Jiwa in the future.
The Making Of Her was the 51st book of 2022 and satisfies the Debut Novel and Book Set Outside the U.S. categories of the 2022 EDIWTB Reading Challenge.