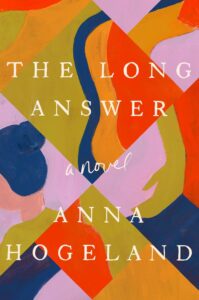 The Long Answer by Anna Hogeland explores many dimensions of the process of getting, staying, or avoiding being pregnant, as told through the eyes of a young woman in graduate school who is pregnant with her first child. Anna, who is eager to have a child with her husband, finds herself in conversation with a number of women during her pregnancy, each with her own story to tell about their journey to motherhood. Through these women's experiences, Hogeland considers the often conflicting views women have about motherhood, as well as the many ways that a pregnancy can resolve. The Long Answer is an intimate, thought-provoking book with an unusual structure that mostly works, but that is a bit forced at times.
Why I picked it up: Strong recommendation from Sara at Fiction Matters, and I thought it sounded so interesting.
What's particularly unique about The Long Answer is how Hogeland set up the novel. When it opens, Anna is corresponding with her older sister Margot, who has just had a miscarriage. Their conversation turns to a friend of Margot's – also pregnant – and Margot's mixed feelings about this friend. This leads to a very long section about the friend and her winding road to marriage and pregnancy. Hogeland teases out the friend's story by relating it as is told to Margot during some very long walks . Rather than telling it through actions and descriptions, it's all done solely through narrative. This pattern is repeated a few more times through the novel, when Anna meets another pregnant woman at a pre-natal yoga class, and then again when she meets a woman at a bar. One the one hand, I liked this structure because I could lost in the narrative, but on the other, it felt unnatural to me. People don't just spill out their life stories on a walk, without interruption. Some reviewers have suggested that The Long Answer could have been a collection of short stories – I agree with that. Hogeland has a fine eye for detail and readable style that would lend itself well to that format. I also read that Hogeland is a therapist, which could explain the format of long, confessional narratives.
The individual stories were quite compelling, even if there were times when I was momentarily confused about whose story I was hearing. People come to motherhood, if at all, through a lot of different paths. Sometimes the pregnancies stick, and sometimes they don't. Sometimes the pregnancies are planned, sometimes they aren't. I admire the kaleidescope of experiences and perspectives in The Long Answer. I am glad I read this one, notwithstanding the somewhat awkward structure.
The Long Answer was the 58th book of 2022 and satisfies the Debut Novel category of the 2022 EDIWTB Reading Challenge.