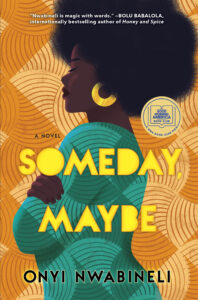 Happy December! There are only two more weeks of the year, which means only two more weeks to complete my 2022 EDWITB Reading Challenge (I still have two more books to go!), do my 2022 reading wrapup post, write my Best Books of 2022 post, unveil the categories for next year's challenge, and – most important – pick what I am going to read during my vacation to Asia at the end of the month! Eesh. Not sure how that will all get done, but it will. In the middle of holiday prep madness, I finished Onyi Nwabineli's debut novel, Someday, Maybe, a painful but very well-written account of a woman's experience with grief after her husband's suicide.
Why I picked it up: I thought the premise was very compelling. It was my November BOTM pick.
Eve, a British woman with Nigerian parents living in London, finds Quentin, her husband of ten years, dead by suicide in his photography studio on New Year's Eve. He didn't leave Eve a note, and his death came as a complete surprise. Someday, Maybe chronicles the months following Quentin's death as Eve mourns the loss of her husband and deals with her own guilt and confusion surrounding his decision to end his life. Someday, Maybe is a true immersion into the process of grief and its unrelenting, inconsistent and all-encompassing nature, which can sometimes be exhausting for the reader. But the book is honest and realistic, offering an unflinching view of what it is like to lose someone you love, and particularly to suicide.
Eve's close Nigerian family, her toxic mother-in-law, and her close friends round out the cast of characters in Someday, Maybe, and they provide both some comic relief and the occasional break from the inner narrative of Eve's brain and heart. Nwabineli's writing is incisive, eloquent, and often quite funny, despite the dark subject matter. If you pick this one up, just know that it will be a few hundred pages of painful reading, but that you'll come out of it with a better understanding of how people grieve and a memorable experience with a hopeful ending.
I listened to Someday, Maybe on audio. The narrator, Adjoa Andoh, did a fantastic job, especially with the accents. I've listened to other books she narrated before, such as Stay With Me, and she is an extremely versatile performer. (You might recognize her from Bridgerton). I definitely recommend the audiobook.
Someday, Maybe was the 57th book of 2022 and satisfies the Debut Novel and Book Set Outside The US categories of the 2022 EDIWTB Reading Challenge.