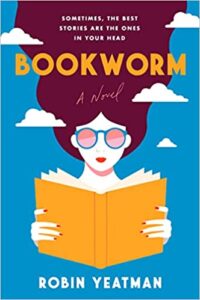 Bookworm by Robin Yeatman is a dark comedy about Victoria, a Montreal woman trapped in a bad marriage who starts to fantasize about a handsome man she sees at her coffee shop reading the same book as she is. She grows obsessed with him, sure that he is the answer to the unhappiness in her life, as her husband grows more and more intolerable. As her dreams become more vivid, the line between her two lives starts to blur and she has to find a way to make her fantasy come true.
Why I picked it up: I have no idea where I learned about this book! (I know, I need a system.) I put this on hold at the library and it came in and I found it on audio.
Bookworm wasn't what I expected. The cover suggests a light, chick lit-y book about a nerdy reader with a fantasy life. It's actually a much darker and angrier book. Victoria's husband is truly awful, as are her parents and in laws, and she is trapped in a pretty terrible situation with him at home. He is petty and misogynistic, but she's also sort of selfish and uncurious, despite the reading addiction. I had a hard time getting a handle on her. The romance of the coffee shop mystery man is intriguing, until he too turns out to be sort of average. So the real pull of the book turns out to be how Victoria extricates herself from her marriage without ruining the rest of her life. That was enough to keep me reading, but in the end the story fell flat. It has been a week since I finished the book, and when I went to write this post, I couldn't even remember which book I had read! Not a great sign.
If you are looking for a dark, sharply told but ultimately wispy fairy tale about lust, escape and villains, you might enjoy Bookworm. I'm not unhappy I read it, but there are others that would have left more of a mark.
I listened to Bookworm on audio. It was narrated by Karissa Vacker, a familiar voice for me. She did a good job with Victoria, though her breathy delivery works better with a more innocent character (like Marissa in The Golden Couple).
Bookworm was the 22nd book of 2023.