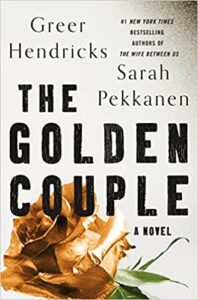 Psychological thriller power duo Greer Hendricks and Sarah Pekkanen are back with a new book – The Golden Couple – that offers the same twisty ride as its predecessors (like The Wife Between Us). This time, DC couple Marissa and Matt have hit a speedbump in their marriage and sought the guidance of an unconventional therapist named Avery, who is helping them rebuild their relationship. Avery has a reputation for using extreme measures to guide her clients to desired outcomes, and as a result she has lost her license. But she still attracts clients who feel they need drastic measures to help them overcome their problems. As Avery goes down the path with Marissa and Matt, she gets more involved with their lives and uncovers secrets that suggest that all of their lives might be more intertwined than she thought.
Why I picked it up: I needed something distracting that wouldn't be too heavy. I liked The Wife Between Us, and I hadn't read any of their recent books, so I picked this as my BOTM for February.
The Golden Couple was as advertised. It kept my attention and it had some unexpected twists that kept me guessing. Avery is edgy and interesting and Marissa is a bit annoying, but the alternating viewpoints of the two women kept the story moving along. If you enjoy psychological thrillers, you should enjoy this smart story with realistic details that rarely goes over the top. It also helped that I live in the very neighborhood where The Golden Couple took place -within blocks – so I appreciated all the references to streets and stores and places I pass all the time. The book was mostly true to life, but a few changed street names and made up things made me laugh (a Ferris wheel at the Wharf? um, no).
I listened to The Golden Couple on audio. Marin Ireland's Avery was smart and restrained (as her narration always is), while Karissa Vacker's breathless Marissa got more hysterical as time went on. But it was a good audiobook and I was always excited to turn it back on.
Overall, a decent popcorn read! It fit the bill for me. 🙂
The Golden Couple was the 10th book of 2022 and satisfies the Book With A Flower On The Cover category of the 2022 EDIWTB Reading Challenge.