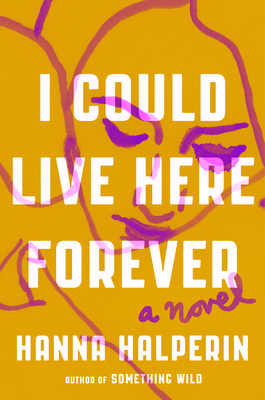 I Could Live Here Forever by Hanna Halperin is a sad but gripping novel about a tough relationship. Leah is a creative writing MFA student in Madison, WI who gets involved with Charlie, a man she meets in line at the grocery store. She falls hard for him, only to learn that he is a recovering heroin addict. I Could Live Here Forever chronicles the year they spent together – the ups and downs, the promises broken, the dependency, the hope and despair. I really loved this book and had a hard time putting it down.
Why I picked it up: Lots of buzz this spring!
It's hard to articulate why this book was so compelling. It's like watching a train wreck – you want these two to succeed as a couple, despite Charlie's addiction, but you know that that the odds are against them. Like Leah, you want to believe that Charlie can stay sober and that they can make it as a couple. Like Leah, you become vigilant, watching Charlie like a hawk, trying to detect a relapse. And like Leah, you grow frustrated and weary of his excuses and the times he disappoints you. And yet, you hope and forgive, again and again. Halperin's writing is fresh, authentic and raw – deeply honest and often unflattering to her characters. This story felt so real.
I also liked the depiction of Leah's MFA program and her cohort of fellow writers, as they grapple with success, envy and rejection, as well as the dynamics of her family. There are so many little details in the book that brought it to vibrant, familiar life – and made it one that I won't forget for a long time.
I listened to this one on audio. It was good – narration by Megan Trout was occasionally a bit too dramatic but probably in keeping with the tenor of the story. I was always happy to return to the audio and was sad when the book was over. Thank you Penguin Random House Audio for the audiobook and DC Public Library for the print.
I Could Live Here Forever was the 24th book of 2023.