Oh, this is a mess of a book.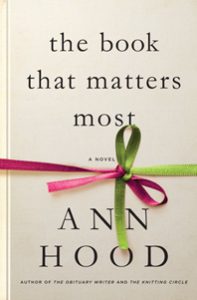 Ann Hood's The Book That Matters Most is about Ava, a middle-aged woman living in Providence who has a lot going on. Her husband has left her for another woman. Her troubled daughter is studying abroad in Italy, but she's not answering Ava's emails. She's still dealing with residual sadness over the deaths of her younger sister and mother when she was young. And she has joined a new book club with some eligible, single men in it, two of whom seem to be interested in her.
I wish Hood's editor had told her to pick just two plots and focus on those. Because there were simply too many stories to tell at once.
The chapters about Ava's daughter Maggie – who it turns out is a drug addict – are harrowing. (Plus she's a pretty hateful person.)
The chapters about the deaths of her mother and sister are sad, but that plot ends up with a twist that really makes no sense and is very unrealistic.
The chapters about the book club, whose participants each pick the book that has mattered most to them in life, had the most promise, but I hated that they all picked such predictable books (The Great Gatsby and Pride and Prejudice and Anna Karenina) and I found the book club discussions kind of hard to follow. (Also, it appeared that no one other than the person who had picked these books had ever read them before. ??)
The chapters about the men in Ava's life were pretty ridiculous. I've basically read them before in other books and they didn't really fit in here, and when her ex-husband drifted back into her life with regret about how it all ended, I was fed up. (Where did *that* come from?) Unsatisfying.
And there are a bunch of random coincidences that tried my patience.
In the end, The Book That Matters Most didn't hang together well and was unsatisfying. Threads were dropped and relationships were left unresolved.
Need I go on?
The best thing I found in this book was the following quote, which I loved, and will try to remember every day.
"To look at everything always as though you were seeing it either for the first of last time: Thus is your time on earth filled with glory."