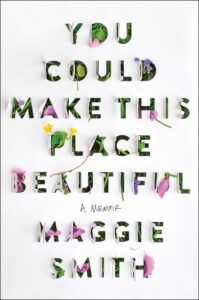 You Could Make This Place Beautiful by Maggie Smith is a poignant, poetic account of the breakdown of the author's marriage and her subsequent divorce. This is not a new story, but in Smith's hands, it felt fresh and raw and compulsively readable. I had a really hard time putting this one down.
Why I picked it up: I haven't read any of Smith's poetry, but this book got a lot of buzz when it came out and I was intrigued.
Smith and her (unnamed) husband were married with two small kids when she discovered a postcard he had written to a woman in another city, referencing an activity they had done together. This discovery led to a reexamination of the marriage, counseling, and the ultimate decision to separate and divorce. Throughout You Could Make This Place Beautiful, Smith looks back to figure out what happened and how things could have ended differently. What she finds is an imbalanced relationship in which her career was undermined and undervalued while she tried to keep up with parenting their kids and her husband's expectations. Meanwhile, she tried to save the marriage using whatever means possible, while his heart had moved on with someone else – a painful and frustrating experience
I loved the style of You Could Make This Beautiful, which was a mix of longer, vignette-y chapters and short, one or two sentence chapters with just a few thoughts. Her writing is clearly informed by her poetry – it's gorgeous, intimate and deeply personal. I didn't love that Smith told the reader directly a few times that there were things she wasn't going to share – if you are going to ask me to read her book about your life, don't make me feel bad for being curious about certain parts of the story, you know? It made me wonder if she was ambivalent about writing the book in the first place. Beyond that, though, I really liked this book and am very glad I picked it up.
You Could Make This Place Beautiful was the 25th book of 2023.