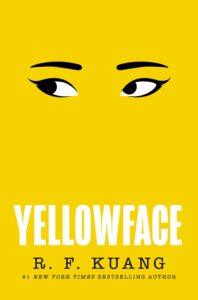 If you like books about writing, publishing and the question of who owns a story, then you'll like Yellowface, the latest novel from R. F. Kuang (and one of the hot books this summer). Athena Liu and June Hayward are college classmates and fellow novelists, though Athena has has had a lot more success than her friend. A charismatic, stylish Asian-American writer with several successful novels under her belt, Athena is about to finish her latest book, which is about Chinese laborers during WWI, when she suddenly chokes and dies while June is at her apartment. June impulsively grabs Athena's manuscript – written on a typewriter, of course, leaving no digital trail – and, mired in writer's block, polishes it off and passes it off as her own. When the book is a smash hit, June deals with guilt, accusations of ethnic appropriation, and a stalker, as she tries to prove that she is worthy of – and responsible for – the book's success.
Why I picked it up: I loved the similarly themed The Plot by Jean Hanff Korelitz, and the buzz for this one was very strong.
Yellowface grabs you from the start and doesn't let up. June is thoroughly unlikeable – defiant in asserting her innocence and shameless in pushing her own narrative. She savors the milestones that she believes she's earned- bestseller lists, a Goodreads Choice Award, international rights and invites to literary events – and yet, her tiny sliver of conscience keeps seeing Athena's ghost (or is it?), haunting her and reminding her of their unfinished business. When social media starts to pile on and June faces cancel culture and the wrath of the Asian-American literary sphere, it's clear that even June may not emerge unscathed.
I do not work in publishing, but I am sort of publishing-adjacent, and I loved the behind-the-scenes of writing and marketing fiction. Kuang doesn't hold back here at all; she delves deeply into race, authorship, plagiarism and the dangerous side of literary social media. Theft aside, was June "allowed" to write about Chinese laborers? Should her publisher have let her write using her middle name, Song, as her last name, given that it suggested that she was Chinese? Why do some authors get all the attention, while others toil away in the shadows? So many great questions raised by Kuang in Yellowface.
Yellowface isn't a particularly uplifting book – in fact, it was downright stressful to read – but it was also a lot of fun.
I did Yellowface mostly on audio. It's narrated by Helen Laser, whose flat, wry delivery made June particularly unlikeable (this is a good thing!). I recommend both print and audio here – they are both hard to walk away from.
Yellowface was the 30th book of 2023.