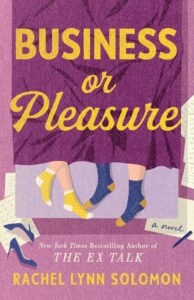 A few weeks ago, I was feeling a bit weighted down by a series of heavy, serious reads. In need of a palate cleanser, I reached for two light books – The Wife App (reviewed here) and Business Or Pleasure, a romance by Rachel Lynn Solomon. It's about Chandler, a ghostwriter living in Seattle who has a one night stand with a cute man she meets in a bar. Well, it turns out that the cute man is Finn, her next client, a television actor who wants to tell his story. Chandler accompanies Finn on a multi-city convention tour leading to a reunion special, and as they get to know each other, their relationship deepens. They have to decide what they are to each other and what they want from the relationship.
Why I picked it up: I needed a break and it sounded cute.
There is a lot to like about Business Or Pleasure, which was deeper and more satisfying than some other romances that I've read. First, I liked that Finn and Chandler were pretty mature. They were genuinely kind to each other – no love/hate pendulums – and they cared a lot about the other's well-being and satisfaction. They communicate well. They are looking for meaning in their lives. They are bookish and nerdy and have mental health challenges. And they are sexy and open in bed. Even during the "third act" conflict that always keeps characters in romances apart, they are respectful and not hot-headed or vindictive. How refreshing!
Business Or Pleasure was a fun read about two compelling, smart characters in a unique, fresh situation. It was a good palate cleanser and I am glad I read it.
Business Or Pleasure was the 35th book of 2023.