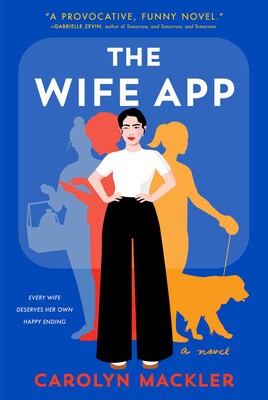 In Carolyn Mackler's The Wife App, three divorced single mothers in New York City create an app called the Wife App, which allows men (or women) to pay hired hands to cover the time-consuming, uncompensated mental load chores that usually fall to wives: school forms, birthday gifts, travel arrangements, medical appointments, etc. The goal is to show that this work is valuable and that the women doing it deserve to be paid – and to make money in the process. The app takes off – and all three women's lives get more complicated – forcing them each to make some difficult and risky decisions.
Why I picked it up: I have no idea where I read about The Wife App, but it turned up on my library hold list. I needed a lighter read after a string of heavy books, and this one fit the bill.
The three friends behind the Wife App – Lauren, Sophie and Madeline – are good friends who have supported each other through their divorces. Lauren's ex turns out to be a cheater who is now dating their young babysitter; Sophie's ex has moved on with a new woman and a new baby; and Madeline's ex has been largely absent through their daughter's life. The idea for the app came when they were venting to each other about how their exes never appreciated all of the hard work they did. While there were aspects of the app – and the book – that were wildly unrealistic, Mackler had some important things to say about mental load and work imbalance in relationships. I found the women to be interesting and relatable, and I felt invested in their stories. And even if the app didn't always make sense from a business perspective, the notion of monetizing this hidden work was intriguing.
One thing that nagged at me: if the app is intended to show that this work is valuable and should be compensated, what does that say about the women who can't afford to hire someone to do it – how do they get "paid" or at least recognized for the work? Or what about the women who sign up as wives – who is doing their work? There was a fault in the logic that I kept trying to work out.
I listened to The Wife App on audio. There were three narrators – Jennifer jill Araya, Joy Osmanski and Allyson Ryan – and they did a good job, especially with differentiating the characters. If you like ensemble casts, this is a good choice.
The Wife App was the 34th book of 2023.