June is a great month for many reasons, but one of my favorites is that it is Audiobook Month! A whole month to celebrate the wonderful narrators and audio productions of equally wonderful books.
I will be doing a few things here on EDIWTB to mark June is Audiobook Month (JIAM). Last year, I ran a series of three interviews with audiobook narrators. I am lucky to be able to do it again this year. Watch the blog for three Q&A posts with Therese Plummer, Tavia Gilbert, and Patrick Lawlor. I'd like to thank them in advance for taking the time to answer my questions – I have a lot of them!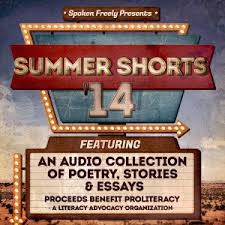 I am also participating in a blog post series called Summer Shorts. In this June series, a new short story is posted every day on a different blog, featuring an audiobook narrator reading the work of one of his or her favorite authors. Readers can listen to a different short story for free each day, and buy the whole collection from Tantor (with 20 additional bonus tracks) for $9.99 (effective through June 30). Proceeds from the purchases will support ProLiteracy, a literacy outreach and advocacy organization.
Here is the full schedule of shorts, as well as the blogs on which they will be available. On June 29, I will be featuring a reading of Susanna Daniel's Sharks and Seals by Karen White, a longtime friend of EDIWTB and one of the narrators I interviewed for JIAM last year. You can read more about Summer Shorts here. Thanks to Xe Sands and Karen White for organizing Summer Shorts and inviting me to participate!
This month I will also update my Top 10 Best Audiobooks list which I posted last June.