I spent three glorious days in NY last week for Book Expo America 2014 (BEA).
This year, I focused on learning about new books (mostly fiction) at a number of panels held over the course of Thursday and Friday, as well as on obtaining copies of a select few galleys. I discovered some unknown authors by wandering the floor and checking out galley stacks and author signings. I also attended some fun off-campus events, such as the HarperCollins 2014 Fall Preview and Blogger Party, the Bloggers Recommend happy hour, and the annual audiobook narrator-blogger lunch (which I LOVE going to – more on that later this week).
Here are some of my impressions of BEA 2014, as well as some photos:
1. There are a LOT of exciting books coming out in the next few months. I picked up galleys from a lot of big-name authors that I have enjoyed in the past – Sue Miller, Jane Smiley, Ann Hood – and also heard some very passionate editors rave about upcoming books from new authors. These new authors are edgy and have written about difficult topics, which I found encouraging. It shows that fiction is alive and innovating. 
2. Celebrity memoirs are as big as ever. There were huge lines for author signings by such stars as Neil Patrick Harris (who wasn't even signing a book!), Angelica Huston, and Billy Idol, not to mention the ticketed author events that also featured celebrities. (I didn't wait in these lines.) I also attended a panel discussion with Jonathan Tropper, who adapted his novel This Is Where I Leave You for the big screen, along with the movie's director Shawn Levy and stars Tina Fey and Jason Bateman. It was a huge event, with hundreds of people turning out. Tropper spent a lot of time talking about the fascinating process of adapting a novel into a screenplay.
3. But the really long lines were for YA authors. The longest line I saw during BEA was for a signing by Lois Lowry. RJ Palacio also had a huge line for a signed tote bag. There were many other lines for authors I've never heard of, and I presume that most of them were YA.
4. E-readers might be big, but galleys moved quickly. I saw stacks of books one minute that were gone 15 minutes later.
5. Big news for audiobooks: a new format that features MP3 files and that allows a whole book to be saved onto a single disc. This will make audiobook production cheaper and faster, which should benefit the publishing industry and listeners alike.
6. Readers – whether they are bloggers, librarians, educators, or industry insiders – are as passionate as ever. Everyone seemed very excited to be at BEA, and were enthusiastic about the authors they interacted with and the books they collected.
And now the pics!
Signed copies: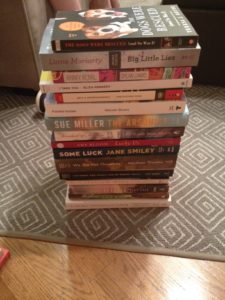 Unsigned fiction(mostly):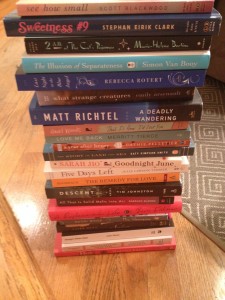 Books from the HarperCollins 2014 Fall preview and blogger party: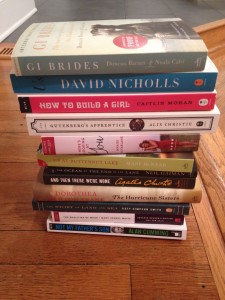 Books I picked up for friends and other odds and ends: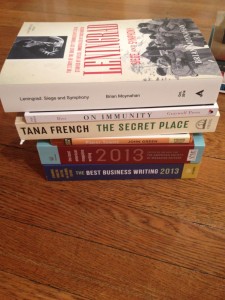 And books for my kids: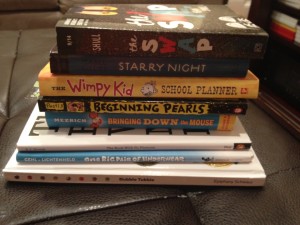 Here are some authors who signed my books:
Jane Smiley: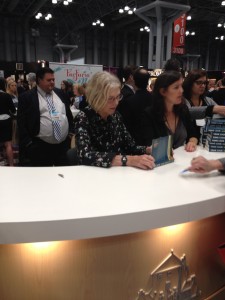 Ann Hood: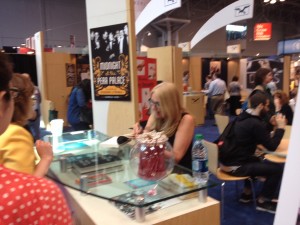 Sue Miller: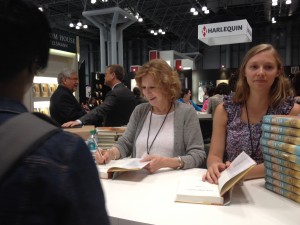 BJ Novak: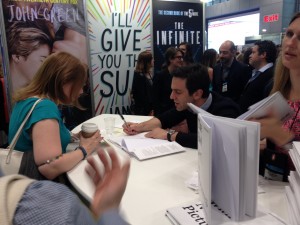 Jeff Kinney: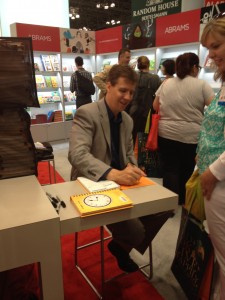 RJ Palacio: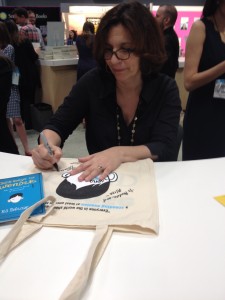 I am already excited for next year!