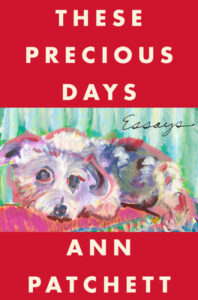 Ann Patchett's latest essay collection, These Precious Days. covers a lot of ground: the impact her three fathers had on her life; her decision not to have children; her paring down of physical possessions during the pandemic; her discovery of and love for Kate DiCamillo's books; the process of designing book jackets for her books. The longest in the collection. which is also the title essay, went viral when it came out in January 2021 in Harpers. It's about Patchett's unexpected friendship with Sooki Raphael, Tom Hanks' personal assistant, which developed when Raphael underwent chemo treatment while living at Patchett's house in Nashville at the start of the pandemic. Despite their breadth and variety, the common thread among these essays is how personal they are, and how wide a window they open into Patchett's interior life.
Why I picked it up: I am a huge Ann Patchett fan and recommended These Precious Days for my book club's April pick.
You know how sometimes you read a book and you decide you want to be friends with the author? Well, I will take it a step further: I want to be Ann Patchett. She's funny, smart, warm, empathetic, generous, and a fantastic writer. She owns a bookstore. She wins awards for her novels. She has a cute dog. I mean, what more could you want to be, or do, or have?
These Precious Days is filled with expressions of Patchett's gratitude – to her family, to Raphael, to her mentors, to her readers , to her husband- and what better reminder, after the years of crap we've all just lived through, that there is still so much out there to be thankful for? That doesn't mean this book is sappy, or treacly. Quite the opposite: Patchett isn't perfect, but she's so human, and so compelling. With the exception of one or two of these essays, I hung on every word, hoping to get to know Patchett better and see the world the way she does.
I listened to These Precious Days on audio, narrated by the author. Narration may be the one thing Patchett doesn't do flawlessly – she sometimes makes unnatural pauses that I found distracting – but hearing her words in her voice more than made up for it.
These Precious Days was the 19th book of 2022 and satisfies the Book By An Author I Love category of the 2022 EDIWTB Reading Challenge.