I am finally going on vacation this week, which I am really looking forward to. 8 days in Italy, with hopefully enough downtime to read some books.
Here is what I am bringing with me to read.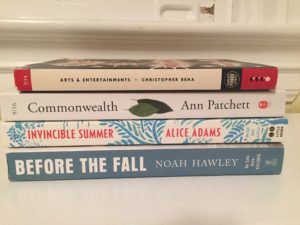 A few other things to share:
My friend Nicole Bonia of Linus's Blanket and I have started a podcast for Readerly magazine. Here is the first episode. It's not on iTunes yet, but I will share the link when it's up. For now, you can listen at the Readerly site. We talk about what we're reading, what's coming out soon, and what you might have missed this summer. Give it a listen! We're recording another show today.
I went to a reading by Carolyn Parkhurst on Saturday at Politics and Prose, where she talked about

Harmony

, the book we just read for the EDIWTB online book club. Here is some of what I learned in her Q&A:

Parkhurst has a son on the autism spectrum. She made Tilly a girl so that there would be differences between her son and Tilly.
Pop culture informs her writing a lot.
She told Alexandra's perspective in the second person so that the reader could be closer to her and understand what is going on in her head She wanted those chapters to feel more intimate, so that the reader would viscerally feel the chaos in her life.

Harmony

was the most difficult book she has written and took the longest to write, in part because it was the most personal. She worried whether it was OK to be writing about her kids.
She is still not sure whether she got Tilly's voice right. Her son's mind is incredible, unlike anyone's she has ever met. She wanted Tilly to be unique too and had to create that voice for her.
Scott was the hardest character to write. He says the right things and makes sense on the surface. He is not based on anyone she knows, though she spent a lot of time thinking about cults when she wrote him.
She has ideas for her next book but is not writing anything right now.

I also enjoyed this Wall Street Journal post about Parkhurst's son reading 

Harmony

.
I'll be offline for the next two weeks or so but hope to have a few reviews to post when I get back! Happy August, everyone.