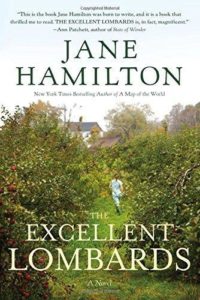 I don't want to spend any more minutes of my life than necessary on Jane Hamilton's The Excellent Lombards, so this will be short.
I did not like The Excellent Lombards. It's about Mary Francis, a girl growing up on an apple orchard in Wisconsin with her family. Her dad shares the farm with his brother, so there are issues about who gets what, who makes the decisions, and who will work the orchard in the next generation. Her mean great aunt and various cousins come and go, as does a middle school teacher she develops a crush on. The book ends with the question, will Francis go to college or stay on the farm?
Honestly, The Excellent Lombards was so boring I can't even summarize it. I didn't care at all about any of the characters, especially Mary Francis, who was selfish and self-absorbed and didn't expand her worldview at all during the book. It was a chore to get through it. I could barely follow the characters or the anemic plot, and I just wanted to get the book over with so that I could move on to something better.
I've enjoyed others of Hamilton's novels – A Map of the World, The Book of Ruth – and I can't believe this was written by the same person.
I listened to The Excellent Lombards on audio. The narration was fine, but honestly the book was so boring and meandering that it didn't keep my attention. I finished it off in print today and there was no improvement.
There are a lot of glowing reviews of this book on Goodreads. It just wasn't for me.