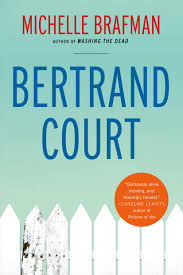 The most recent EDIWTB online book club pick was Bertrand Court by Michelle Brafman, a collection of linked stories set in Washington, DC. Seventeen chapters explore moments in the lives of a range of characters, most of whom are related by blood or marriage and/or live on the same cul-de-sac in suburban Washington.
Brafman's stories deal with relatively small moments – a child's birthday party seen through the eyes of her mother and grandmother, a pregnant woman's anxiety about miscarriage, a visit to a boyfriend's family in Wisconsin. They are vignettes in the characters' lives, mere blips on the overall arc of their relationships. But Brafman manages to find the profound in these small moments, teasing out the conflicts, passions and tenderness at the heart of these friends, spouses, partners and parents.
I love Brafman's writing. She focuses on small details that seem insignificant but help paint such an immediate, realistic picture of what is happening. There's also a nice feeling of tension that propels the stories- you know they are building up to something, and it's fun finding out what it is. I think I grew to appreciate the book more and more as I read it and saw how Brafman really got to the core of these characters and relationships in 20 pages or so.
I had expected Bertrand Court to feel particularly Washingtonian, as it is billed as a book about "politicos, filmmakers and housewives", but to be honest, I didn't really find it all that resonant of my hometown. This could have taken place in any suburb where smart, engaged people live. (It *does* have a lot of Jewish people in it – that is true. And they felt pretty familiar to me.)
My favorite chapters were "You're Next", "Minocqua Bats" and "Would You Rather".
At times it can be hard to keep everybody straight (though Brafman does include a list of the characters and their relationships in the beginning), but ultimately, I decided it didn't matter if I couldn't remember how everyone related to each other, each time. The stories worked on their own.
Bertrand Court is a big-hearted book to savor and to nod at in wistful recognition.
OK, EDITWB book club readers, what did you think? Please leave me your thoughts below.