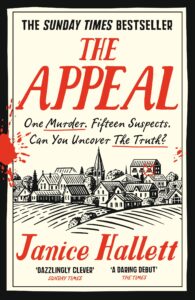 Another short vacation review. I never read mysteries, but my BFF gave me Janice Hallett's The Appeal for my birthday and told me that I would have trouble putting it down, so I thought it would make a good plane/vacation read. And she was right! It's a mystery told entirely through emails, texts, voicemails and other modern epistolary methods. Two young law students working for a defense attorney are tasked with going through all of this correspondence to try to solve a murder. The cast of characters revolves around a local theater company, whose director is trying to raise a large sum of money for an experimental treatment for his granddaughter's brain cancer. Money starts going missing, old grudges and secrets start coming to light, and then someone shows up dead. Who did it, and why?
Why I picked it up: Nice change of pace and strong recommendation from a reader I trust.
I won't say too much about this book because it's best to go in blind, but it's a fun read and mental challenge. You can't read it too quickly because otherwise you'll miss important clues that end up being important in the end. I enjoyed the original storytelling style, the wide cast of characters and the twists and turns the story took as it led to its resolution. I am totally unfamiliar with this genre so I can't compare it to other mysteries, but for a newbie, it was a lot of fun.