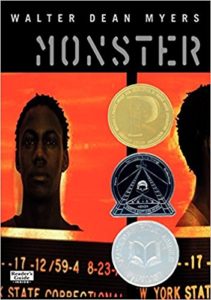 We had an April meeting on the calendar for our mother daughter book club, but due to busy schedules, we had to cancel. I decided to read the book anyway: Monster by Walter Dean Myers.
Steve Harmon is a 16 year-old boy who is in detention in NY city jail awaiting trial. He has been accused of taking part in a felony murder – specifically, acting as the lookout for a drugstore robbery that ended with the owner being killed. As part of a way to deal with his stress and anxiety, Steve decides to tell the story of the trial and his incarceration in the form of a screenplay for a movie. He includes the dialogue and camera notes – close ups, flashbacks, etc.
The screenplay format is an interesting way to tell this story, and it's very effective in Monster. There is some ambiguity over whether Steve actually did what he is accused of, and the format of the book allows Myers to get away with not really resolving it. There are moments of first person narration in the journal entries that punctuate the chapters, but most of the book relates the courtroom proceedings as they happen.
There's a lot of stress in the book, as Steve talks about the violence in jail, his fears about his future, and the sadness he sees in his parents' faces when they come to visit him. Myers did a lot of research interviewing inmates, and it shows. He includes a lot of detail about what it's like to be young and scared in jail, awaiting your fate as a jury decides whether they believe you or what your lawyer has argued. It's a difficult topic, to be sure, and I wonder how our group would have liked it. There's also a bit of legalese in it, but not too much. I am definitely glad I read it, and I would like my daughters to read it at some point so that we can discuss it.
Monster provides a creative and compelling perspective on a world that most teenagers never experience. I found it to be a worthwhile read that made me think about my own biases and the conclusions I might have drawn were I in the courtroom – fair or not.