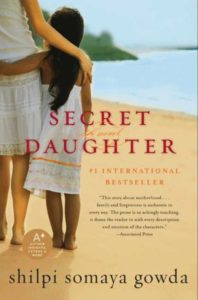 Secret Daughter by Shilpi Somaya Gowda is an interesting, if joyless, novel about two mothers: Kavita, a poor Indian woman whose first two children are daughters whom her husband does not let her keep, and Somer, a white doctor in Northern California who adopts a daughter from India after going into early menopause. Kavita's first daughter was taken away at birth and never seen again (presumably killed by her husband's cousin), and she took her second daughter, Usha, to an orphanage in Bombay. Somer, whose husband's family is wealthy and lives in Bombay, ends up adopting Usha, whose name is changed to Asha. Asha returns with her parents to Northern California, where she grows up in privilege, in stark contrast to her birth parents' poverty in India.
I liked the story told in Secret Daughter – lots of detail about Bombay, the slums, being female in India and how hard it is to make a living there if you start out poor. Kavita's relationship with her husband somehow survived her deep anger at him, though she never recovered from the loss of her girls. Somer's marriage had its own issues, such as Somer's feeling of alienation from her Indian daughter and husband and her inability to connect to Asha. The book alternates between Kavita and Somer, Bombay and California, until Asha travels to India during college on a journalism fellowship and spends a year living with her grandparents and researching life in the slums. She also decides to look for her birth parents, traveling to the orphanage where she was born to identify them and track them down.
However, Secret Daughter was unfortunately too superficial and simplistic for me. There were moments when the characters seemed to show complexity – particularly Asha – but overall they were pretty shallow and two-dimensional. For the most part, they are sad and dissatisfied, with few moments of joy. The book spanned a lot of time and distance, with jumps that thinned the story out. And the prose was serviceable but not memorable. I never knew about this book when it came out in 2011, but it was apparently a popular book club choice. It's basically mass-market women's fiction – engaging enough but nothing really remarkable other than the subject matter.
I'm not sorry I read Secret Daughter. I was glad to get outside the U.S. and it was a memorable story. If you decide to pick it up, though, just know what you're getting.