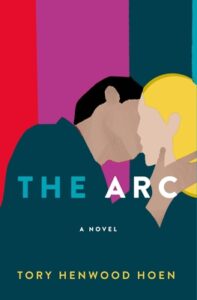 Ursula Byrne is a branding professional in her mid 30s living in Brooklyn. She's single, a serial dater with high expectations, and she's ready to meet the love of her life. She signs up for a service called The ARC, a highly scientific process that promises to pair people up with someone with whom they are compatible in every possible way. Tory Henwood Hoen's debut novel The Arc is about Ursula's relationship with Rafael, her match, and the test they face when the scientists at The ARC confess that their formula made a miscalculation and that their pairing is doomed.
Why I picked it up: I received an ARC of The Arc from St. Martin's Press as well as an audio ARC from Libro.FM. It comes out next week, so this seemed like a good time to read it!
The romance between Ursula and Rafael is fun to read. They are both compelling people, and their relationship is substantive and convincing. Ursula's "weirdness" is a bit overstated at times (she's really not that weird), but they both seemed like people I'd like to be friends with. As a reader, I was rooting for them to work out.
The Arc is also a sendup of modern life in NYC, venture capital/tech bro culture, startups and the millennial wellness industry. Occasionally, it all gets a little over the top, but I enjoyed the non-romance aspects of the book as much as the love story. I read a lot of heavy and depressing books. so The Arc was a great palate cleanser. It's fast, well-paced and kept my attention.
I toggled between the print and audio versions of The Arc and liked them both equally. The narrator, Mary Elizabeth Kelly, had a light, energetic tone that matched the tenor of the book. (It turns out I follow her on TikTok – I didn't realize it was the same person. She is great at imitating various celebrities and doing accents.) I recommend both the print and the audio of The Arc.
The Arc was the 6th book of 2022 and satisfies the debut novel category of the 2022 EDIWTB Reading Challenge.