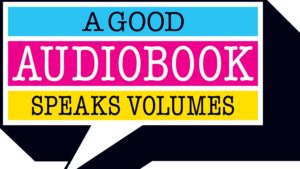 It's June! My favorite month because of the long days, the glorious weather, and the promise of summer ahead. It's also Audiobook Month, the annual celebration of all things related to audiobooks.
I've been very vocal here on EDIWTB about my love of audiobooks. I got hooked when I started listening about 8 years ago. I always have an audiobook going in the car, and listening has not only allowed me to add many more books to my list each year, but it has given me a whole new appreciation for the genre. I am obsessed with audiobooks – how they are cast, produced and performed. Writing this blog has luckily given me the opportunity to get to know some narrators, and I think they are some of the coolest people on the planet.
So I was very excited when I was asked to participate in a blog tour for June Is Audiobook Month. First, check out five awesome audiobooks below, if you're looking for a new listen. Second, check out the other posts in the tour, which will continue throughout June with many more audiobook recommendations from other bloggers. And finally, leave me a comment below with the name of a favorite audiobook to enter into a contest to win an awesome giveaway: three free downloads from Audiobooks.com and a pair of headphones!
5 recent audiobooks that I loved:
Kitchens of the Great Midwest by J. Ryan Stradal is my favorite book so far of 2017, and the audio was just as good as the print. Authentic Minnesotan accents and empathetic narration beautifully matched this treasure of a book. I recommend it to anyone who will listen to me! Give it a try on audio. Narrators: Amy Ryan and Michael Struhlbarg.
The Risen by Ron Rash. This is a haunting story, simply and beautifully told, and the audio version is just perfect. The narrator wonderfully captured the troubled, dreamy Southern protagonist and brought this story to life. It's a short listen and totally worth it. Narrator: Richard Ferrone.
Underground Airlines by Ben Winters. Don't confuse this book with Underground Railroad, which came out at the same time. This one imagines a United States where slavery was never abolished. It's a thought-provoking, dystopian thriller performed by an excellent narrator who expertly conveyed a wide range of emotion. Narrator: William DeMerritt.
Billy Lynn's Long Halftime Walk by Ben Fountain. I thought the narration of this unforgettable Iraq War novel was just perfect. So many accents, emotions, sound effects – all nailed by the audio. I didn't love the women's voices, but that's a minor quibble. Pick this one up. Narrator: Oliver Wymer.
All The Light We Cannot See by Anthony Doerr. If you haven't read this book yet, give it a try on audio. The narration of the 2015 Pulitzer Prize winning World War II novel is calm and even, despite its many tense and horrific moments. The audio is long, but it goes quickly as the suspense ratchets up. Narrator: Zach Appelman.
Leave me a comment below with your favorite audiobook to be entered into the contest, and be sure to check out the other blog posts on the tour!