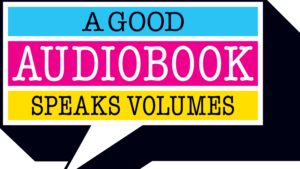 So, are you listening to audiobooks yet??
I've been extolling the virtues of audiobooks for years here on EDIWTB. I cannot live without them. I am always, always listening to an audiobook, and I usually get through one or two of them a month. (Is it weird to say that I wish my commute were longer?) Before I started listening to audiobooks, I feared that I wouldn't be able to focus, that my mind would wander and I'd lose track of the book. That almost never happens. With a good audiobook – and a good narrator – my mind is very focused. I am not tempted to pick up my phone when I'm driving and listening to a good audiobook, and it definitely helps the minutes fly by much faster. And, of course, I get through even more books in a year!
A good audiobook enhances my enjoyment of books, too. It's a different experience from reading, but it's just as rewarding. Here are all the recent audiobooks I've listened to.
A few tips for audiobook newbies:
Keep the print or ebook version of the book on hand, so that you can reread or refer back to sections after you've listened to them.
Once you find narrators you like, research their profiles to find more books they narrated.
Your library has a lot of audiobooks that you can download onto your phone. Get on a bunch of waitlists if there are no copies available and one will come in before you know it.
Get creative – listen when you're walking your dog, cleaning your house, or sitting on a plane.
Finally, June is Audiobook Month (JIAM)!! This post is part of the JIAM Blog Tour – check out what other bloggers have had to say this month about audiobooks! As part of JIAM, I am giving away a selection of 8 audiobooks donated by Blackstone Publishing, High Bridge Audio, Hachette Audio, LA Theatre Works, Macmillan Audio, Post Hypnotic Press Audiobooks, Scholastic and Tantor Audio. The books will be available on Audiobooks.com. If you'd like to enter to win, leave me a comment here with your favorite audiobook of 2018 so far.
Here are the books you can win:
Seven

by Paula Cizmar, Catherine Filloux, Gail Kriegel, Carol K. Mack, Ruth Margraff, Anna Deavere Smith, and Susan Yankowitz

Gone to Dust

by Matt Goldman, narrated by MacLeod Andrews

Bring Me Back

by B. A. Paris, narrated by Kevin Hely and Cathleen McCarron

Wings of Fire

Book One: The Dragonet Prophecy by Tui T. Sutherland, narrated by Shannon MacManus

Altered Carbon

by Richard K. Morgan, narrated by Todd McLaren

Rainbirds

by Clarissa Goenawan, narrated by David Shih

A Girl Stands at the Doo

r by Rachel Devlin, narrated by Robin Miles

Torn from Troy, Book 1 in the Odyssey of a Slave Trilogy

by Patrick Bowman, narrated by Gerard Doyle
Ok, leave me a comment to win free audiobooks, load up your devices with great reads, and check out the other JIAM blog posts on the blog tour!
Enchantress Of Books – Monday June 18
Books, Movies, Reviews, Oh My – Tuesday, June 19
AudioGals – Wednesday, June 20
Sarah's Book Shelves – Thursday June 21
Under the Boardwalk – Friday June 22
A Bookworm's World – Monday, June 25
Fangs Wands and Fairy Dust – Tuesday, June 26
Books of my Heart – Wednesday, June 27
AudioGals – Thursday, June 28
The Audio Flow – Friday, June 29