Taylor Jenkins Reid's One True Loves has an irresistible premise.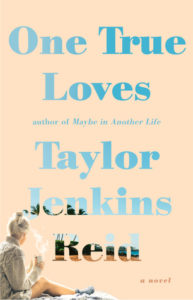 Emma and Jesse are high school sweethearts from Boston who stay together through college and move out to California together after they graduate. They are adventurous spirits who love to travel, and are glad to have escaped the predictable lives their parents had planned for them. They get married, and on the eve of their first anniversary, Jesse goes on a helicopter trip in Alaska to take photos. The helicopter he is on disappears, and his body is never found. Emma, heartbroken, moves back home to Boston and gives up her adventurous life to take over her parents' bookstore. She reconnects with an old high school friend, Sam, and they end up falling in love and getting engaged a few years after Jesse's disappearance. All is going well until one night when Emma's phone rings… and it's Jesse.
What to do? She's in love with two men, and feels loyalty and responsibility to both of them, but she of course has to pick one. One True Loves is about Jesse's re-entry into Emma's life and how she comes to a decision about which man to pick.
So One True Loves isn't perfect. It's repetitive – Emma says the same things about both men over and over – and there are aspects that are really unrealistic, most revolving around Jesse's return. (Also, three years on a rock island?) I also think that Reid favored one man over the other, making Emma's wrenching choice just a little less wrenching.
But damn if this wasn't a really addictive read. I finished it in a few days and I was very, very eager to find out who Emma picked. This is my second Taylor Jenkins Reid in the last seven books. There is something about her characters that I really like – they are relatable and compelling, especially the women. This novel wasn't quite as good as After I Do, but I still liked it. When I got to the end, the premise seemed more outlandish than at the start, but I certainly enjoyed it while I was reading it.
Who will Emma pick? The soul mate she mourned for three years, or the man who helped her get her life back?
You'll have to read One True Loves to find out.