In the 12-year history of EDIWTB, I have never re-read a book.  There are just too many books out there that I want to read – why would I spend precious time repeating one?
Until now.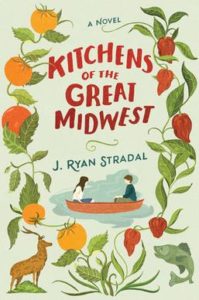 I was flailing around for an audiobook last month, and I found Kitchens Of The Great Midwest by J. Ryan Stradal on audio on Overdrive. I've always been interested to see if it holds up to my very positive memory from last January (here's my original review), and since I recommend it to everyone I know, I wanted to be sure that I still felt as strongly about it now.
The short answer is: I do. It's still my favorite book in recent memory.
Kitchens Of The Great Midwest follows Eva Thorvald, a girl who is born in St. Paul, Minnesota to Lars, a chef with an extremely sophisticated palate. Her mother abandoned the family when Eva was only a few months old, and her father died suddenly a few weeks later. Eva was adopted by her aunt and uncle, and the book checks in on her life every few years as she grows up and turns into a world-renowned chef. Each chapter involves Eva in some way – sometimes she's the main character, and sometimes she's only mentioned in passing. There is an ingredient featured in chapter too, and in the end, they all come together in a very creative way. It's almost like a book of linked stories, with themes of food, family and loss threaded through each one.
I always find Kitchens (as I call it) a tough book to describe. There is lots of sadness in the book, but Stradal also has a sharp sense of humor and deep empathy for his characters. His writing is restrained and quiet, which always left me wanting more (in a good way). Almost every word uttered by every character in the book seemed totally realistic – you could just imagine the conversations playing out in front of you. There are so many memorable scenes, each full of detail and emotion, yet also understated and not showy at all. Stradal is my favorite kind of writer – he never underestimates his readers and he doesn't shy away from tough stuff.
And the audio! It's perfect. Amy Ryan and Michael Struhlbarg effortlessly transform themselves into Stradal's motley crew of characters, from poor Lars to angry Braque and hapless Dan, a bit player who made a big impact on me thanks to Struhlbarg's narration. The audio is amazing – this was my second time listening to the book on audio (both times I also read some chapters in print – I literally can't put this book down) and again it didn't disappoint.
OK, if you haven't read this book yet, what are you waiting for? It's just that good.