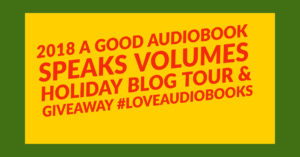 I am happy to be joining the Audio Publishers Association's A Good Audiobook Speaks Volumes Holiday Blog Tour and Giveaway! As I have written often on this blog, I am a huge fan of audiobooks and have listened to 15 so far this year. I listen in my car during my short commute, and when I am really into a book, I'll listen while walking the dog, making dinner, even in the shower sometimes. Listening to audio is a great way to squeeze in more books, and the experience of listening can enrich a book, lending emotional depth and immediacy.
I also love audiobook narrators! They are the coolest group of people. I try not to pepper them with questions whenever I am with them, but it's hard for me to resist. I am fascinated by the whole narration process and I always want to learn more about it.
This holiday season, for some reason I've been in a British mood. The last three audiobooks I've listened to were all narrated by British performers – One Day In December, The Adults and The Other Woman (still listening). British accents make characters seem smarter (more clever, as they would say) and more articulate, and I really enjoy them.
This time of year is a great time for audiobooks! Many people take long road trips for Thanksgiving or Christmas, and audiobooks are a perfect way to pass the time. I get ones that my 6 year-old son will enjoy for when he's in the car too, and he really likes them. Audiobooks are also good for trains and planes, long waits in airports, etc. Don't leave home without a loaded phone!
If you need audiobook gift ideas, here are a few of my favorite 2018 listens:
One Day In December by Josie Silver
I Am, I Am, I Am by Maggie O'Farrell
Born To Run, Bruce Springsteen
Do you like audiobooks too? The APA is letting me give away a fantastic selection of 8 audiobooks that have been donated by the following publishers: Beacon Press, High Bridge Audio, LA Theatre Works, Macmillan Audio, Penguin Random House Audio, Scholastic, Simon & Schuster Audio, and Tantor Audio. The books will be available for free download on Libro.fm. If you want to win these books, leave me a comment below with the name of a book that you're hoping someone buys as a gift for you this year. I'll pick a winner on December 8.
The giveaway books:
BRIDGE OF CLAY by Markus Zusak (Penguin Random House Audio)
SPILL by Leigh Fondakowski (LA Theatre Works)
HOW TO BE LESS STUPID ABOUT RACE by Crystal Fleming (Beacon Press)
AN AMERICAN MARRIAGE by Tayari Jones (HighBridge Audio)
SALVATION by Peter F. Hamilton (Tantor Audio)
THE HUNGER GAMES: Special Edition by Suzanne Collins (Scholastic)
THE LIBRARY BOOK by Susan Orlean (Simon Audio)
NINE PERFECT STRANGERS by Liane Moriarty (Macmillan Audio)
And check out the rest of the blog tour! 29 other bloggers have written about why they love audiobooks – find out what they had to say.