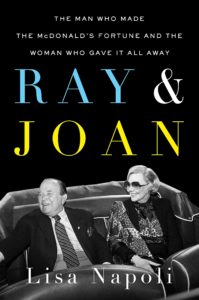 Ray Kroc is best – if erroneously – known as the founder of McDonald's. He didn't actually start the company – the first McDonald's was owned by two brothers in San Bernardino, CA – but Ray did develop the franchise model that turned McDonald's into one of the world's biggest brands, making himself a billionaire in the process. Ray's third wife, Joan, to whom he was married when he died, gave away the billions of dollars in wealth that her husband created, and she is the subject of Lisa Napoli's 2016 book, Ray & Joan.
The first half of Ray & Joan covers the history of the McDonald's chain, including its dusty inception, and the early, lean years of Ray's ownership of the company. A salesman at heart, he made many missteps along the way to success, each of which is covered in the book. Joan, meanwhile, was a young wife and mother when Ray laid eyes on her in a Minnesota nightclub, playing piano and singing. She stole his heart, and while it would be many years before they were together, he never forgot about her. Ray and Joan were fiery, opinionated people who fought often but were drawn together by a passion that survived three marriages to other people.
By the time the Krocs finally got together for good in 1969, Ray was already very wealthy. The causes that he chose to support were determined by his conservative political views, and Joan often felt limited in her ability to direct her husband's philanthropy. She tolerated his purchase of the San Diego Padres and took a limited interest in his funding of business schools and various health causes.
But as Ray's health declined, and after his death in 1984, Joan began to take charge of the family fortune and kicked off what turned into a spectacular – and indiosyncratic – philanthropic career. Her first pet cause was addiction, fueled by her frustration with Ray's lifelong drinking, and she sought out doctors and institutions who would study the disease and provide resources to other who suffered from it. From there, she moved to nuclear disarmament and end of life hospice support and a host of other causes that caught her attention.
The most interesting aspect of Ray & Joan is Napoli's coverage of what prompted Joan to give money away.  She was famously private, and hated being solicited or asked for money. When she gave, she almost always did it anonymously, in large part to prevent others from approaching her looking for a similar donation. She'd see someone on the news doing something that impressed her, and the next day a check would arrive from Joan. At the end of her life, she concentrated her giving on two recipients: NPR and the Salvation Army, though the enormous gifts she left both organizations upon her death came with strings and instructions that made them almost as burdensome (especially in the case of the Salvation Army) as they were lifesaving.
Napoli had a blank slate to work with, as no one had written about Joan Krok before, despite her enormous legacy. Napoli did a good job of unearthing the psychological roots of Joan's motivations, and by the end I had a good sense of who Joan was, with all of her complications and contradictions. The book moves along pretty steadily, and it's fascinating to track the path of Joan's hundreds of millions of dollars.
I listened to Ray & Joan on audio. It was narrated by the author, and I didn't love it. Napoli has a chirpy voice and she enunciates VERY clearly, and sometimes that voice just didn't match the subject matter. She'd be talking about someone dying, or a terrible tragedy, and she was just too upbeat and perky for what she was talking about, like she was reading a children's book. Also – warning – listening to this book for 9 hours in the car as you drive around will make you crave McDonald's, and it gets really bad if you're at all hungry. To date, I've resisted the urge, but it was challenging.
i enjoyed Ray & Joan and am glad I finally got to it, as it has been on my shelf for a few years. I recommend the print over the audio.