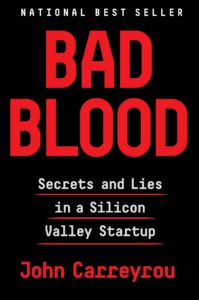 I chose Bad Blood: Secrets And Lies In A Silicon Valley Startup by John Carreyrou for the non-fiction category of the EDIWTB 2019 Reading Challenge. It's the story of entrepreneur Elizabeth Holmes and her company Theranos, which rose to dizzying heights based on Holmes' promise that her technology would allow an array of tests to be performed on tiny drops of blood using portable devices. The promise seemed too good to be true – and it was. Yet Holmes and Theranos managed to con investors, board members and fawning media into believing that Theranos was going to change the world.
Holmes dropped out of Stanford to pursue her dream of revolutionizing medicine through groundbreaking technology that would allow a single drop of blood to substitute for the vials that are traditionally taken from patients' arms. A small box, which could be used anywhere – in a house, in a drugstore, in a supermarket – could perform hundreds of tests, instantly, delivering accurate results to patients and their doctors. It was an irrestistible premise, and even if the science behind it was nebulous, Holmes found willing audiences among venture capitalists, supermarket chain executives, even prominent people like George Schultz and David Boies.
Theranos' greatest threat came from within. Employees at all ranks of the company, from the engineers in charge of the labs down to the technicians handling the tests, started having doubts about the science behind Theranos. Bad Blood chronicles in exhaustive detail how Theranos soared publicly while it was crumbling inside. Carreyrou also breaks down how Holmes managed to earn the confidence of very smart, powerful people who took Holmes' word that the technology was sound without insisting on proof.
Bad Blood is a riveting and deeply disturbing story of arrogance and greed, thanks to brave, tenacious reporting by Carreyrou, an investigative journalist for the Wall Street Journal, who pursued the Theranos story based on a tip from a former employee even as his own newspaper was heralding Theranos' bright future. The book reads like a newspaper article – factual and meticulous, even as the Theranos story becomes more incredulous. I didn't find it to be as much of a page-turner as others have, perhaps because nothing really changed – the fraud continues through the book with little deviation or evolution. But in the end, it's a well-written and compelling account of how one woman put lives at risk, destroyed careers and blew through hundreds of millions of dollars with no apparent conscience or regret.