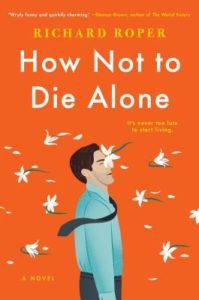 I am not sure what made me pick How Not To Die Alone by Richard Roper as my next read a week or two ago. I think it's because I had a review copy on audio and had swapped a book for the print copy, so it was easy logistically. In retrospect, I'm not sure it was what I was in the mood for, as I've had a run of lighter books lately.
How Not To Die Alone is about Andrew, a man in London approaching middle age, who is (like the last book I read) an introvert stuck in a stagnant life. He works for the city doing the difficult job of going into the homes of people who have died without leaving a will or next of kin. He goes through their apartments looking for clues about who might be able to pay for – or even attend – their funerals, and when he finds none, he attends himself. It's a grim, sad job, but Andrew has done it for a years, all while living in a dreary flat where he obsesses over his model trains and communicates online with other train enthusiasts whom he knows only by their online handles.
Andrew's world is ripe for upending. Three things happen in short order: he suffers the loss of an estranged family member; a new female co-worker starts work in his office; and his officemates come closer and closer to discovering that Andrew's life as they know it as a lie. For he has fabricated a wife and two children in order to fit in at work, and when his boss proposes a rotating series of dinner parties at team members' homes, Andrew's falsehood becomes harder and harder to maintain.
How Not To Die Alone is a cross between a dark book and a rom-com. The book is infused with loneliness – Andrew's as well as that of the people whose homes he searches – and he's a pretty depressed guy. But at the same time, the book takes on a lighthearted feel as Andrew bumbles his way through a crush and navigates an IRL meetup with his train friends. The constant straddling of both paths makes How Not To Die Alone, in the end, not terribly successful on either front. It was pleasant enough, but I wasn't really compelled to return to it after having a break.
I listened to How Not To Die Alone on audio. It's performed by acclaimed British narrator Simon Vance, and he did a good job with it. (Anything performed in a British accent is automatically good, right?) I think I enjoyed the book more on audio than I would have in print, thanks in large part to the narration. He gave Andrew the stammering, well-meaning persona that you expect him to have, while infusing the whole book with dignity and poignance (perhaps more than it deserved).
I've seen this book described as the male version of Eleanor Oliphant Is Fine (reviewed here). I don't really agree. Andrew isn't as awkward as Eleanor, and his backstory isn't as dark. That seems like convenient marketing to me. In the end, this was just OK for me.