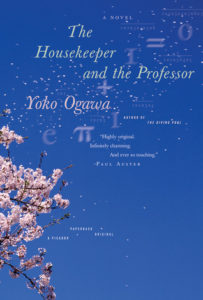 My second vacation read was The Housekeeper And The Professor by Yoko Ogawa, a book I learned about from the Read Between The Wines blog this summer. It's about a woman assigned to be the housekeeper for a brilliant math professor whose short term memory only lasts for 80 minutes ever since he was injured in a car accident. He can remember complicated math theorems, but he can't remember people he met two hours earlier. This has led to a string of short-lived housekeepers, as they grow frustrated with having to reintroduce themselves every time they get to work.
The housekeeper of the title, however, is different. She gets to know the professor and pays attention to the math he teaches her and the connections he makes between numbers. Unlike the others, she finds him fascinating, and her world begins to expand beyond her job in his little house. She also introduces him to her 10 year-old son, and the boy bonds with the professor over their shared love of baseball. Although there are limitations on where their relationship with him can progress, they become very fond of him and learn to adapt their interactions to accommodate his memory loss.
The Housekeeper And The Professor is a quiet, poignant book. These lonely characters find connection in unexpected, imperfect ways, teaching the importance of living in the moment and behaving compassionately. It's a quick read, but a memorable one. Though you never learn the characters' names, they form a triangle you won't easily forget. Bonus: it takes place in Japan and there is lots of baseball!