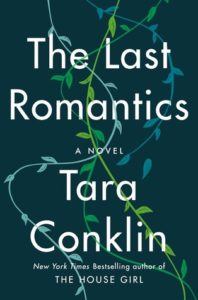 The Last Romantics by Tara Conklin was a buzzy book last spring – it as Jenna Bush's first Read With Jenna pick – and my IRL book club picked it for our August read. It's a family drama about four Skinner siblings – Renee, Caroline, Joe, and Fiona – whose father passes away suddenly and whose mother subsequently goes into a deep depression. During the years of the their mother's depression – which they call The Pause – the kids (aged 4-11) are left on their own. Renee, the responsible oldest, takes on the role of the mother, getting her siblings to young adulthood while missing out on her own adolescence.
Once the siblings grow up, however, they head off into different directions. Renee is driven and focused, attending medical school and becoming a surgeon. Caroline marries her high school boyfriend and has children early, providing them the stability she missed in her own childhood. Joe, the golden boy with the once-promising baseball career, finds the allure of money and booze too hard to resist, and Fiona uses physical connections with men – which she blogs about at "The Last Romantic" – to take the place of meaningful intimacy. Joe's sisters watch him devolve with increasing alarm, yet they are powerless to stop his decline. How they respond to him puts a strain on their relationships and permanently transforms the dynamics between them.
I loved The Last Romantics. It's beautifully written, poetic at times, and I really got to know these four characters well. Some chapters are told from the year 2077, when Fiona is a famous poet at age 102 looking back on her life. This was an interesting construct, both unsatisfying due to very limited parsing of details about the future (hint: it doesn't sound great) and also poignant because of Fiona's perspective looking back on her life. Ultimately, this is a novel about love (in all forms), loyalty and loss, and the imperfect ways in which we connect with and support the people we love. [Warning: the end is reminiscent of the Six Feet Under finale. If you know what I'm talking about, then you know why I am issuing the warning.]
This was a good one! Go pick it up.