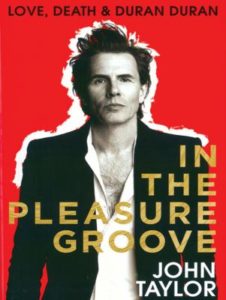 I am a sucker for rock memoirs (ie Born To Run and Not Dead Yet), and I've had In The Pleasure Groove: Love, Death And Duran Duran by Duran Duran bassist John Taylor on my TBR for a long time. I listened to it on audio this summer, and am so glad that I did. This may be a top 5 read of the year!
John Taylor was born Nigel Taylor to a working class family in Birmingham in 1960. He got into music as a young teenager, traveling around England with his best friend Nick Rhodes to see his favorite bands and rock idols (people like David Bowie), while cultivating his own dreams of rock stardom. While he had other interests like art and design, he convinced his parents to bankroll him for one year while he tried to make it as a musician. The Pleasure Groove takes readers through the earliest days of Duran Duran, how the band (Simon LeBon, Roger Taylor, Andy Taylor, Rhodes and J. Taylor) was formed, how they developed their sound and how quickly they got popular. The book follows the usual Behind The Music chronology – the first breakthrough single, the early success, the tours, the meteoric rise, the drugs, the fame, the women, the inevitable band tensions, the apex (Live Aid, in this case), the rift, the breakup, the spinoff projects, the rehab, the tentative reconnection and the band reunion. It's all here. (I don't think I have spoiled anything – this all really happened, decades ago.)
Despite my familiarity with this fact pattern, it felt fresh and even suspenseful in Taylor's words. I don't know who partnered on this book with him, but it's smart, well-written and very funny at times. Taylor is pretty honest about his flaws, especially when it comes to his drug use and self-centeredness throughout his addiction, but he is also grateful for – and even a little bit in awe of – all that Duran Duran achieved as a band and the experiences he had. While the intensity of fame was difficult for him to handle at the time, he's also very appreciative of his fans, then and now.
Plus there are lots of DD details, like how the band was run (as a democracy), what the album titles mean, the stories behind many of their hit songs, their various romantic relationships, etc. I loved that stuff. I decided I wanted to have a copy of this book for my shelves, so I ordered a used print copy since I only had the audio, and there are lots of photos included too. The photo quality isn't great, but there are many pictures sprinkled throughout the book.
If you do The Pleasure Groove on audio, you get John Taylor himself as the narrator. He's awesome. Funny, self-deprecating, eloquent. Just what you want from the guy who used to hang on your bedroom wall when you were a pre-teen. I caught Duran Duran in DC when they were on their reunion tour several years ago, but having Taylor tell me his life story in the car with me for 8 hours was also really fun. I highly recommend this book and audiobook.