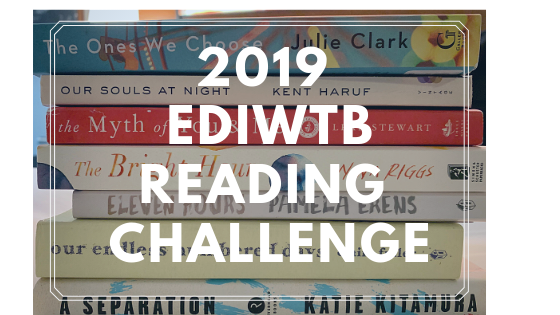 So this was the first year I participated in a reading challenge – on my blog or anywhere. I've always avoided them, because the ones I've considered always had categories that I just didn't want to spend my precious reading slots on, like "books with a flower on the cover" or "books with something sweet in the title". I read too slowly and life is too short not only to find books that fit the bill, but then to read books I otherwise wouldn't have read.
But last year, my friend Stephanie came up with a list of categories that seemed pretty manageable, and with her permission and some tweaking by me, I launched the 2019 EDIWTB Reading Challenge. My goals were to push myself to read some books that I should read but probably wouldn't prioritize during the year, and to diversify my reading list a bit. I hoped that it wouldn't become a chore and that I'd find some great books that, looking back in December, I'd be grateful that I'd been pushed to read. I knew going in that it wouldn't be hugely mind-expanding – I didn't choose categories like Political Memoirs or Science Fiction or Social Justice- but I did want it to broaden me a bit.
I would say the Challenge mostly accomplished those goals, but not entirely. Some of the categories – Memoir, Debut Novel – were very easy to fulfill, and I read several that fit the bill (all of which I would have read anyway). Campus Book and Short Stories were also easy. When I got to books like Unread Classic and Humor, my enthusiasm started to wane, because the books I read – while decent – felt like obligations rather than free choices, like when book club chooses something you don't really want to read that badly.
By Q4, when I had Pulitzer Prize Winner and Self-Help and Birth Year left, I became downright resentful. There are so many books I am so excited to read, and between my various book clubs and this challenge, they were getting further out of reach. In the end, I am glad I read Interpreter of Maladies and The Best Skin Of Your Life Starts Here, but it was that process of getting myself psyched up, mentally, to read and finish them that I didn't enjoy. I was cursing the Challenge and rethinking its direction and purpose.
So, I am relieved the Challenge is done, I am glad I did it, and I am most of all so happy that so many of you EDIWTB readers did it too. That has been the best part: the Facebook group and the camaraderie around it.
But I want to improve it.
Later this week I will reveal the categories for the 2020 EDIWTB Reading Challenge, and I hope you all will return for it and invite your reader friends to join too. I've picked categories that are less onerous, in that they allow you more flexibility and freedom to read your bookshelves and choose the books you're most excited about. I can pretty much find a book for each one that I genuinely want to read, and will hopefully avoid the dreaded December pileup of reading obligation. I want you all to feel energized and purposeful, rather than needing to cross categories off the list.
To conclude:
Favorite books I read for the 2019 EDIWTB Reading Challenge: Becoming, In The Pleasure Groove, The Dreamers
Least favorite books I read for the 2019 EDIWTB Reading Challenge: Charlotte Sometimes, I'll Give You The Sun
Easiest categories: Memoir, Debut Novel
Least favorite category: Birth Year
Which were your favorites and least favorites??
Thanks again for participating, and stay tuned for the 2020 list!