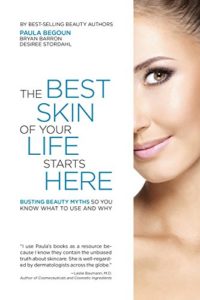 You probably know people in your life who are good at makeup, intuitively know how to care for their skin and look polished and fresh all the time. I am definitely not one of those people. When it comes to my skin, I need all the instruction I can get. So when I had to choose a book for the Self Help category of the 2019 EDIWTB Reading Challenge, I picked one about skin care that has been on my shelf since 2016: The Best Skin Of Your Life Starts Here by Paula Begoun.
Here's what's good about this book. It gives very clear instructions for exactly how to take care of your skin. This is the kind of self-help book I like – one that gives very practical guidance that you can implement as soon as you read it (like Marie Kondo's The Life Changing Magic of Tidying Up or Shaughnessy Bishop-Stall's Hungover). I am not into self-help books about being happy or productive or relaxed, or business books about effective habits and smart leadership. But a book that tells me to use a cleanser and then a toner and then an exfoliant and then a moisturizer? Yes.
The Best Skin Of Your Life Starts Here covers how to establish a skincare routine, which essential elements should be part of that routine, how to tell what kind of skin you have, how to treat acne, how to treat other skin problems and what plastic surgery and injections can accomplish. The book can be repetitive, but that just made me learn the content faster. A few key takeaways:
The most important thing you can do for your skin is wear sunscreen! ALL THE TIME.
Vitamin C does wonders for your skin.
Consistency is key when it comes to skincare regimens.
Don't buy products in clear glass bottles or use old products.
I learned a lot from The Best Skin Of Your Life Starts Here and have implemented a new skincare routine since I finished Chapter 2. I also totally overhauled my bathroom counter and now actually understand what I have and what it's used for.
Soon I'll look 10 years younger. Right?