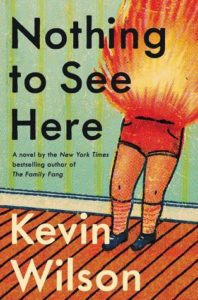 Nothing To See Here by Kevin Wilson is a strange book about twin 10 year-olds who burst into flames when they are upset or agitated. Lillian, a thirtysomething woman who lives at home with her mother in a dead-end life, is summoned by her former best friend Madison to come to her opulent home in Tennessee because she needs a favor. It turns out Madison's twin stepchildren, who have the strange firestarting ailment, are in need of a nanny after the death of their mother. Their father, Madison's husband, is a senator with bigger aspirations, and the couple needs to keep the kids' flames under wraps so as not to torpedo his future confirmation hearings.
Strange premise, right?
I finished Nothing To See Here today and I am really not sure how I feel about it. I've read a number of reviews that call it heartwarming and funny, and I definitely don't agree with those. Lillian is lonely and depressed, and while her connection to her young charges is touching, her life is not a happy one. The kids have been ignored and/or isolated their whole life, and they are not terribly interesting or compelling beyond being worthy of sympathy. The relationship between Madison and Lillian turns out to be more complicated than it seemed at first, but while the two dance around each other, they don't get seem to get anywhere. I feel like Wilson developed this firestarting conceit but didn't know what to do with it after the first 100 pages, because beyond the kids developing a relationship with Lillian, they don't change all that much and the firestarting doesn't go away.
I liked Wilson's writing – it is wry and direct, and his dialogue rings true. But this book just didn't make much of a mark for me and I actually found it kind of boring. His previous book, Perfect Little World (reviewed here), was much more substantive and had a lot to say about parenting and relationships. Nothing To See Here was more superficial and while it was odd and original, I finished it and wondered, "What was the point of that?" I am still not sure of the answer.
I am in the minority here. Nothing To See Here was a Read With Jenna pick and a BOTM selection, and according to my book club, was sold out at our bookstore on the day we selected it as our January read because it was so hot. So clearly it has found an enthusiastic audience – just not me.