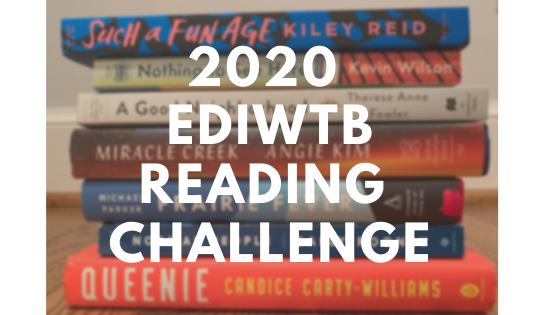 Now that 2019 is almost behind us, it's time to announce the categories for the 2020 EDIWTB Reading Challenge!
As I mentioned in my 2019 Reading Challenge wrap-up post, I wanted to make 2020's categories a little more fun and less of an obligation. My hope with these is that you'll find lots of books you want to read within these categories, without having to scrounge around for something that you don't love and wouldn't have read otherwise. I am also a big fan of reading your bookshelves, and hopefully you can do that more with this list than last year's.
Here is the Google spreadsheet to keep track of your reading. If you're new to the Challenge, just add your name to the list and you can keep track of your books here if you'd like. It's also fun to see what other people are reading for the challenge.
HERE ARE THE CATEGORIES FOR 2020:
An Epistolary Novel. This can also be a book told through texts/emails/etc. – doesn't have to be letters.
A Book That's Been Sitting On Your Shelf For 2+ Years
Pick A Book, Any Book. Close your eyes, walk up to your bookshelf, and read the first unread book you touch. (No do-overs!)
A Book With The Word "Love" In The Title
A Book That You Learned About From A Podcast/Blog
A Celebrity Memoir
A Book Involving Time Travel
A Debut Novel
A Book With A Blue Cover
A Non-Fiction Book
A Book About Sports. This can be fiction or non-fiction.
A Book By An Author You Love That You Haven't Read Yet
I am really excited about this list and hope that you are too! Please spread the word – if you have reader friends who would enjoy a fun, manageable book challenge and want to join a supportive, interesting community of readers, please send them this link.
Looking forward to kicking this off in January!