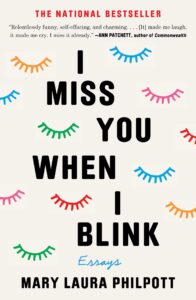 I don't read a lot of essays, but I've wanted to read Mary Laura Philpott's collection I Miss You When I Blink for a while, so I decided to pick it up as the Book in a Genre I Don't Often Read for the 2021 Everyday I Write The Book Reading Challenge. In the collection, Philpott – a self-described type-A personality who feels adrift and disoriented when she becomes a mother and steps away from work and the next rungs on the ladder – writes with humor and honesty about many of the challenges of modern womanhood.
I read I Miss You When I Blink over several weeks (it was my blow-dry book, so I read a few pages a day) and while it may not have been as engrossing as some of the plot-driven books I read, I found moments of familiarity and connection throughout. One of her most poignant themes is how quickly time passes when you're a parent witnessing your children move through different stages of childhood, and the desire to either stop time or go back in time to appreciate once again the stages that are long gone. Heartbreaking! (Page 105, about why high-quality realistic pictures of our children can sometimes be too exquisite to bear – YES.) Philpott's journey through IVF was familiar as well, and I liked her perspective on stress and angst. Haven't we all stopped ourselves and thought, "wow, I have it so much easier than a lot of people in the world – most, really – and I really shouldn't be feeling so stressed out"? Philpott's answer: "Unfortunately, having a fine life doesn't exempt anyone from existential angst… The horizons of needs and wants never actually gets closer; it's an illusion, a trick. We can always want more."
Dani Shapiro said that I Miss You When I Blink makes women feel seen. I agree with that. I don't think I'll ever leave fiction for essays, just because I enjoy the escape of a well-told story, but I found reading I Miss You When I Blink to be affirming, even if at times it can be melancholy.
I Miss You When I Blink was the 54th book of 2021.