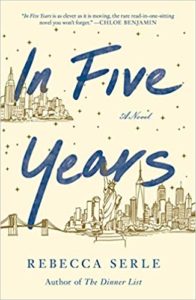 When Rebecca Serle's novel In Five Years opens, NYC corporate lawyer Danielle and her banker boyfriend David get engaged, just as Dannie expected they would, the latest step in her meticulously planned life. But later that night, Dannie has a dream that takes place five years later, in which she is living (and sleeping with) a different man in a different apartment. Will that dream accurately reflect her future reality, and if so, how does she get from the present to that future?
Why I picked it up: I didn't love Rebecca Serle's last novel, The Dinner List, but the premise of In Five Years was irresistible and the reviews were very positive.
I really enjoyed In Five Years. It's a quick read, because it's pretty short and it's hard to put down. Dannie's life unfolds, her career skyrocketing and her relationship with David enduring… but with no actual wedding in sight. Dannie's best friend Bella, meanwhile, falls in and out of love, taking a much more circuitous route forward than Dannie's straight line trajectory. Dannie and Bella's friendship plays a central role in In Five Years, highlighting the differences in how the two approach their lives but providing them with the constant presence that a deep, enduring friendship does. Bella challenges Danni to question whether she should stay on her planned track or give in to the impulses that might lead her to the future she envisioned in her dream.
In Five Years is reminiscent of a few other books I've read: One Day In December (girl falls in love with man who ends up being her best friend's boyfriend); You Were There Too (man recurs in woman's dreams); and The Immortalists, whose author Chloe Benjamin blurbed this book (siblings learn of the predicted dates of their deaths), but it still felt fresh and original. I also liked the depiction of Bella and Danni's friendship. The plot took a few unexpected turns, which kept me quite engaged.
If you didn't love The Dinner List, I'd recommend giving Serle another chance and picking up In Five Years. You'll read it in like two days, and you'll be glad you did.
In Five Years was Book #8 of 2020. It comes out on March 10.