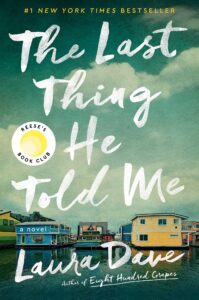 When The Last Thing He Told Me by Laura Dave came out earlier this month, I had a serious case of FOMO. I kept seeing it everywhere and hearing all the raves, and I wanted to get my hands on it ASAP. Thankfully, a kind friend read it and passed it on to me, so I was able to satisfy my curiosity quickly. It's the story of a newly married wife, Hannah, whose husband Owen disappears suddenly one day, leaving her with his 16 year-old daughter, Bailey. He manages to get one note to her, which says, simply, "Protect her." Hannah also learns that day that her husband's software company is being investigated for fraud, and that he is wanted by the FBI. Hannah decides to leave town impulsively, following a long-shot hunch that she hopes will lead to information about Owen's whereabouts.
Why I picked it up: Very strong word of mouth! Couldn't resist it.
So, yes. This is an addictive read. From the start, you just want to know where Owen is! And when it becomes clear fairly early on that Owen may not be who he says he is either, you want to know who he is too. Hannah's trip to Austin, Texas, where she is hoping to find answers, does in fact provide the answers she's looking for. But it's a pretty far-fetched and unrealistic journey to get them. Shadowy memories, coincidences and a rather unlikely fact pattern end up leading to the resolution of The Last Thing He Told Me's mystery. The writing was repetitive and while it kept the pages turning, it wasn't anything memorable. Maybe this is my usual grumpiness with thrillers, but in the end this was just an okay read for me.
Check out Goodreads reviews – lots of people love this book, so don't take my word for it.
The Last Thing He Told Me was book #25 of 2021. It satisfies the Celebrity Book Club Pick category of the 2021 EDIWTB Reading Challenge.