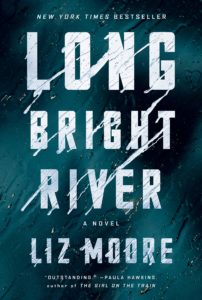 Long Bright River by Liz Moore is a hybrid domestic fiction/police procedural about two sisters in Philadelphia: Mickey, a police officer, and Kacey, a drug addict who has been in and out of rehab. When the book opens, Mickey is trying to locate her sister amid a series of unsolved murders of young women in the Kensington area of Philadelphia.
Why I picked it up: I'd read very good reviews of Long Bright River since it came out in January and it was a December 2019 BOTM pick. But Sarah's interview of Liz Moore on Sarah's Bookshelves Live sealed the deal. I started it in audio, but brought it on a business trip this week and finished it in print.
This was a good one! In Long Bright River, Moore expertly teases out two stories – the Then and the Now. Then covers Mickey and Kacey's childhoods and how they ended up taking such different paths in life. The daughters of an addict, they were raised by their grandmother after their mother's death and father's disappearance. They were given very little support as kids, and while Mickey studied hard and did well in school and Kacey turned to drugs as a teenager, their upbringing had deep ramifications for both women. In Now, Mickey, troubled by the rash of murders of similarly situated women, embarks on a desperate search to find her sister, often ignoring police protocol and putting her own career at risk.
Mickey is also the single mother of a young boy, Thomas, struggling to provide him with security and consistency but without the means to pay for proper daycare or private pre-school. She cobbles together childcare, often leaving him under less than ideal conditions while trying to find her sister. (This added a layer of tension to the book.)
Despite its 470 pages, I flew through Long Bright River. It's incredibly suspenseful, and Moore masterfully teases out both timelines, revealing what happened little by little and and throwing in a few curveballs along the way. It's a deeply sad book; Mickey's loneliness and estrangement from what remains of her family and the details of Philadelphia's opioid crisis combine for some pretty bleak reading. She made some bad decisions, but I had a lot of empathy for her (and ultimately for her sister).
The ending took the book down a notch for me, as I felt it wrapped up hastily and implausibly. Moore raced through some key scenes where I wanted a bit more dialogue and explanation, which left me a little unsatisfied. But overall I really enjoyed Long Bright River and am so glad I picked it up.
I listened to the first quarter of Long Bright River on audio before I turned to the print. It was narrated by Allyson Ryan, who was mostly businesslike and firm in her performance, like Mickey. I thought she did a good job with it. I realized early on that her voice was familiar – she was the narrator of Fleishman Is In Trouble, a very different book. Warning: if you listen to Long Bright River on audio, have the print available too, because you're going to want to read ahead. Trust me.
Long Bright River was Book #9 of 2020. It satisfies the Recommended On A Podcast category, though I already have The Cactus League in that slot.