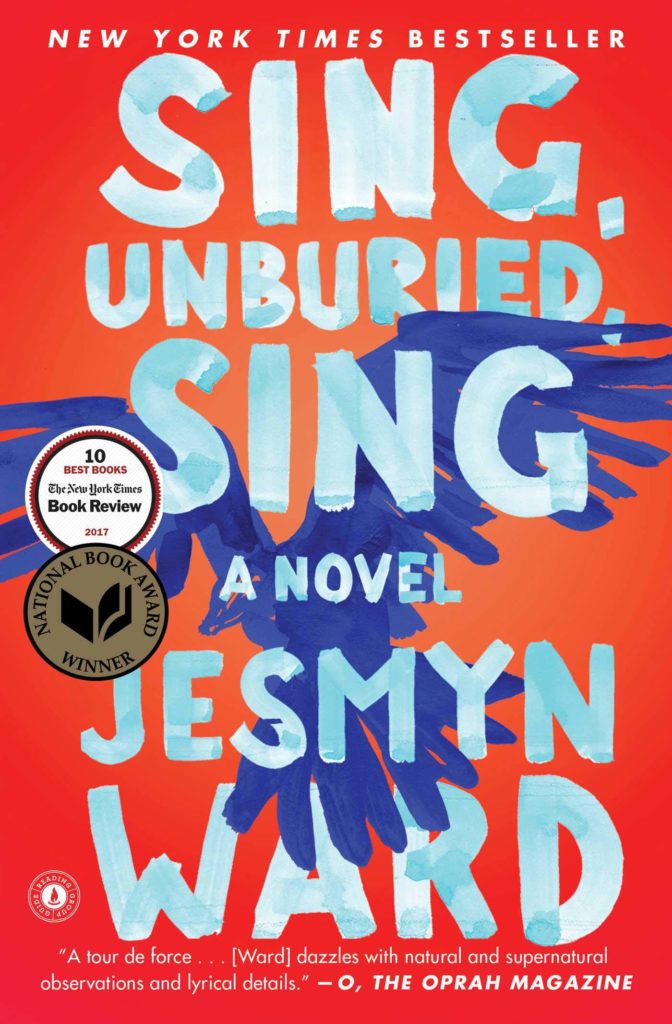 Jesmyn Ward's Sing, Unburied, Sing came out to great acclaim in 2017, and even though I picked up an ARC at Book Expo that year, I just never got to it. Perhaps I was daunted by what I expected to be a difficult topic? It sat on my shelf until a few weeks ago, when I decided to try it in an audio/print tandem read. It helped that Ron Charles discussed how good the audiobook was when he came on The Readerly Report, and that Nicole also spoke highly of the book when she, too, finally got to it earlier this year.
Why I picked it up: I was way overdue.
Sing, Unburied, Sing is about a family living in Mississippi. Mam and Pop live with their grown daughter Leonie (their son Given is dead) and their grandchildren Jojo and Kayla. The kids' father, Michael, is in prison but soon to be released. Leonie is black and Michael is white. Michael's parents have never accepted Leonie as their son's partner nor sought any relationship with their grandchildren, while Mam and Pop have basically raised Jojo and Kayla while Leonie is often off getting high. Jojo, 13, takes care of Kayla too, filling a parental void left by Leonie's frequent absences.
When Michael's release date approaches, Leonie decides to drive to get him from prison, along with their kids and a friend she knows from work. The road trip to and from the prison takes up much of the book. Along the way, the distance between Jojo and Leonie gets more pronounced, with Jojo increasingly frustrated at his mother's failures as a parent and Leonie's resentment of her children's closeness and lack of need for her. Meanwhile, Jojo, on the precipice between boy- and adulthood, gains a clearer picture of his mother – her limitations and also the tenderness she shows to Michael.
The ride also provides Ward a vehicle to explore racism – the group gets pulled over by the police en route back from the prison, and an unannounced visit to Michael's parents does not go well. Meanwhile, both Jojo and Leonie are haunted by ghosts along the way, with Leonie seeing her dead brother Given every time she gets high and Jojo being accompanied by the ghost of boy his age named Ritchie who served time in the same prison as Pop decades earlier. These ghosts serve as a painful reminder of the legacy of racism in Mississippi and are a grim foreboding of what Jojo will face in his life as a black man.
Ward's writing is lyrical and sensuous. I felt like I was in the back of that hot car with the kids, experiencing their mixture of dread, curiosity, anger and the yearning for a family unit that could buffer some of the pain of growing up amidst racism and inequality. There is a lot of pain here: guilty characters trying to redeem themselves and disappointed characters trying to forgive and rebuild. The ghosts – victims of horrific acts of violence – add another layer of unease to the story. So while this is not an easy read – and arguably not the best choice for a pandemic – I am so glad I picked it up.
I listened to Sing, Unburied, Sing on audio and also read the print, probably a 50/50 split. The audio is fantastic. It is performed by Kelvin Harrison Jr., Chris Chalk and Rutina Weley, and they make the prose sound like poetry. Ron Charles (or was it his wife?) was exactly right – it's a superb audiobook. I recommend having the print available too because there are times, especially those involving the ghosts, when it's helpful to reinforce the audio with the print just to make sure you're following what's going on.
Sing, Unburied, Sing was Book #21 of 2020 and it satisfies the "Book That's Been On My Shelf For 2+ Years" category of the 2020 EDIWTB Reading Challenge.