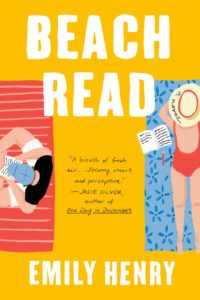 I am pretty new to the romance genre. I read a few of them last year – both Sally Thorne books (The Hating Game and 99 Percent Mine), which I enjoyed. I just read a third – Beach Read by Emily Henry – and the ones I've read have followed a pattern: 1) take a pair who have historically hated each other or had some other impediment to a civil relationship; 2) throw them into a situation requiring sustained contact; 3) reveal her to be stubbornly protective yet emotionally vulnerable and him to be quiet but deeply passionate; 4) build up the physical tension until it snaps; 5) give them a week or two of bliss; 6) throw a major wrench into the budding relationship; then 7) quickly remove the wrench and allow them to move on happily ever after. It's a fun pattern, but definitely a pattern (at least gleaned from my admittedly small sample size).
Why I picked it up: Beach Read was an April 2020 Book Of The Month pick and got good buzz when it came out, so when I was invited by Berkley to join a blog tour for it, I thought I'd take a chance on another romance.
January Andrews is a romance novelist who finds herself broken and jaded about love after her father dies, leaving behind a secret mistress and a heretofore unknown beach house in Lake Michigan. January retreats to the beach house to try to finish her latest book, due to her publisher in a few months, and try to get over the loss of both her father and her trust in him. At the house, she discovers that her next door neighbor is her college rival Gus Everett, a literary fiction writer who is also plagued with writer's block after his own emotional trauma. Gus and January were not exactly friends in college, so finding him living in the house next door is not a welcome discovery.
The two writers eventually learn that they are in the same predicament, and challenge each other to swap genres and see who produces the better work. Meanwhile, January will force Gus to take romantic outings with her on Saturday nights – all for the sake of research, of course – while Gus will bring January along on interviews he is conducting about mass deaths at a remote cult camp in order to expose her to grittier fodder for her literary fiction novel. (See steps 3-7 for the rest.)
Beach Read is a fun, light read that will likely please most romance fans. Henry does a nice job with the physical buildup between the Gus and January and simultaneous breakdown of the protective walls they've each erected. Despite (or perhaps because of) the incongruity between its subject and tone and the reality happening on TV and literally one mile from my house, I flew through this book. I don't think I will ever become a romance fan – I like my books to surprise me more – but Beach Read provided a nice respite this month. The genre swap subplot felt a little forced at times and I'm not sure that either writer was truly pushed into unfamiliar ground, but it provided a nice pretext for put these two into some interesting situations. The banter between Gus and January was also sexy, smart and funny.
I listened to Beach Read on audio. It is performed by narrator extraordinaire Julia Whelan, which I found to be an interesting choice for January because she has a serious tone to her voice that didn't necessarily match that of the book. (She'll always be Tara Westover to me.) Nevertheless, it was a good audiobook and certainly kept me interested.
Beach Read was Book #23 of 2020. Thank you to Berkley for inviting me to participate in this book tour.