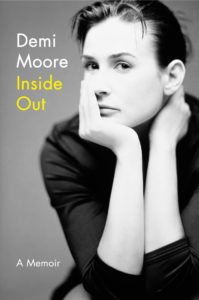 One book genre that has unexpectedly been holding my attention during quarantine is what I call pop culture nonfiction. The Office was an engaging audiobook, one of the few books I finished in April, and after finishing it I turned to Demi Moore's memoir, Inside Out. It turned out to be surprisingly interesting, and was a book I returned to eagerly whenever I had the chance. (I know I'm into a book when I bring my iPhone in the shower to get a few extra minutes of listening in. Weird?)
Inside Out is the story of Demi Moore's chaotic childhood, entry into acting, rise to superstardom and experience as a wife and mother. As a child of the 80s, my Demi Moore consciousness was shaped by movies like St. Elmo's Fire and About Last Night, but her bigger hits – movies like Striptease and G.I. Jane – and celebrity marriages propelled her into the echelon of highest-paid actresses and cemented her place on Hollywood's A-list. In recent decades Moore has perhaps been best known as the mother to her three daughters with Bruce Willis, as Ashton Kutcher's wife – and ex-wife, and for her well-publicized struggle with drugs, topics she covers with honesty in Inside Out.
Moore was born to two alcoholic parents who provided their daughter with an extremely unstable home life punctuated by frequent moves and school changes, separations and reconciliations, exposure to drugs and alcohol and a complete lack of parenting and guidance. Moore's crazy childhood and adolescence, coupled with her complicated relationship with her troubled mother (her father committed suicide in 1980), formed the root of problems that would follow her throughout her life – alcoholism and drug addiction, lack of self-confidence, disordered eating and issues with intimacy and reliance on others. Moore is very honest in the book about her doubts about her acting ability and her attitudes about her body, exercise and dieting. She also goes deep into her relationships with the men in her life – Emilio Estevez, Willis and Kutcher, explaining what attracted her to them, what worked, and what eventually broke them up.
I found the sections about being a mother to her three daughters especially poignant, as Moore identifies parenting as the one activity and accomplishment in her life that she is most proud of. After a drug overdose in the early 2010s, she endured three years of her family not speaking to her, a very painful time for Moore. After reconciling with her daughters, she embarked on the book project, publishing Inside Out in 2019.
Moore does like to play the blame game, shifting responsibility for some of her poor decisions onto her parents, her exes, her critics, Hollywood's expectations, etc. That got a little tiresome. But I liked a lot of what she had to say about pay equity, balancing motherhood with career and not losing your identity in your relationships.
I listened to Inside Out on audio, narrated by Moore. I couldn't imagine hearing these words in anything other than Moore's signature raspy voice. Great audiobook (and pretty short too, at 6.5 hours).
Inside Out was Book #20 of 2020 and satisfies the Celebrity Memoir category of the 2020 EDIWTB Reading Challenge.