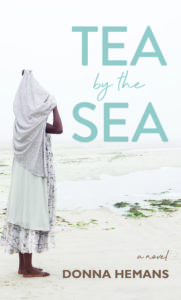 One book that I am adding to my summer TBR: Tea By The Sea by Donna Hemans. I was lucky enough to be invited by Red Hen Press to be part of a blog tour for Tea By The Sea, and hope to get to it in the next week or two.
What it's about: A mother's circuitous route to finding the daughter taken from her at birth. From the publisher: "A seventeen-year-old taken from her mother at birth, an Episcopal priest with a daughter whose face he cannot bear to see, a mother weary of searching for her lost child: Tea By The Sea is their story—that of a family uniting and unraveling. To find the daughter taken from her, Plum Valentine must find the child's father who walked out of a hospital with the day-old baby girl without explanation. Seventeen years later, weary of her unfruitful search, Plum sees an article in a community newspaper with a photo of the man for whom she has spent half her life searching. He has become an Episcopal priest. Her plan: confront him and walk away with the daughter he took from her. From Brooklyn to the island of Jamaica, Tea by the Sea traces Plum's circuitous route to finding her daughter and how Plum's and the priest's love came apart."
Why I want to read it: Family drama, secrets and a long-overdue mother-daughter reunion… what's not to like? I am also excited to read a book from a Jamaican-born author.
Would you like to read it too? I have a copy of Tea By The Sea to give away, along with a special tea blend that Hemans created just for the blog tour. (U.S. and Caribbean readers only.) If you'd like a chance to win Tea By The Sea, leave me a comment here on the blog. I'll pick a winner at random on Friday, June 12.
Please add Tea By The Sea to your library hold list or order it from your favorite bookstore. It comes out on Tuesday, June 9.