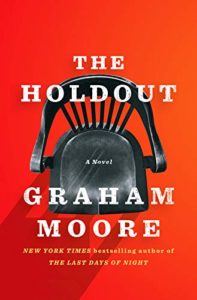 The Holdout by Graham Moore is a legal thriller that goes back and forth in time between the past – ten years earlier, when a sequestered jury acquitted a teacher accused of killing his student with whom he was allegedly having a relationship, and ten years later, when the jury has reconvened on the anniversary of the trial to film a special. Maya, one of the jury members, was the sole holdout, and she eventually convinced the rest of the jury to change their verdicts to not guilty, a verdict that was questioned by everyone who had watched the trial on television. When Maya returns to her hotel room on the night of the reunion to find one of her fellow jurors dead, all eyes are on her.
Why I picked it up: The Holdout isn't my genre – legal thriller – but it was well-received and was my book club's May pick.
The Holdout looks back on why each member of the jury eventually chose to acquit the defendant, and how Rick, the juror found dead in the "now" section, became obsessed after the trial with finding out the truth. But who would have wanted him dead?
The Holdout has a lot going for it – jury dynamics are fascinating, and there are a number of plot twists throughout that I didn't see coming. It turned out to be a well-timed read as well, given its treatment of race and the criminal justice system. It's a relatively quick read, too. But The Holdout just didn't do much for me. I don't love thrillers and I particularly don't love courtroom books. (There's a reason I left the law.) There are some pretty unrealistic elements to the story, one of them being Maya's own behavior after she was accused of the murder, and I found myself sighing at several points over how unlikely they were. And most of all, it has been almost a week since I finished The Holdout and I've barely thought about it since our book club discussion – never a good sign.
If you like thrillers and are looking for a beach read this summer, The Holdout might fit the bill. Otherwise, I'd pass.
The Holdout was Book #24 of 2020.