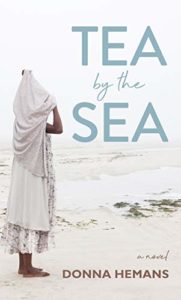 Donna Hemans' novel Tea By The Sea looks at how a single decision – 23 year-old Lemworth's taking his newborn daughter Opal away from her 18 year-old mother Plum, hours after the baby's birth – affects Lemworth's and Plum's lives – and ultimately Opal's. While Lemworth's actions were reprehensible, he had reasons for them, however misguided, and had to live with them in the decades to come. Plum's subsequent search for Opal, meanwhile, became the single guiding factor for her life, affecting all of her future decisions and relationships.
Why I picked it up: I was invited by Red Hen Press to join a blog tour for Tea By The Sea, and I was intrigued by the premise of the book.
Plum and Lemworth are memorable characters in heartbreaking situations. The pain Lemworth causes Plum is unforgivable, as is his subsequent treatment of Opal, a girl left without her mother. Plum's loss of control so early in her life – taken away by Lemworth and her parents – leads to her intense need for control and agency in later years, alongside the acute and constant pain from the loss of her daughter. Hemans' dual-tracked exploration of the ways in which both Lemworth and Plum try to move on from Lemworth's actions in Jamaica was interesting, depicting the braiding of their subsequent paths as Plum searches for Lemworth and he consistently slips from her reach.
Hemans seamlessly shifts the action of Tea By The Sea between Jamaica, where Opal was born, and Plum's hometown of Brooklyn, to which she returned after leaving Jamaica. I enjoyed both settings and found that the contrast between the two only highlighted Plum's loss and the distance – emotional and physical – she felt from Opal.
Hemans also does a nice job building suspense throughout the novel. Will Plum find Opal, and when she confronts Lemworth, how will she make him pay for his actions seventeen years earlier? While the resolution wasn't as clean or satisfying as I would have liked, I think that was intentional. There is no happy ending to this situation, given the pain suffered by so many people. The best we – and they – can hope for is a semblance of peace at the end and the possibility of rebuilding what was lost, albeit in a different form.
Tea By The Sea was Book #25 of 2020.