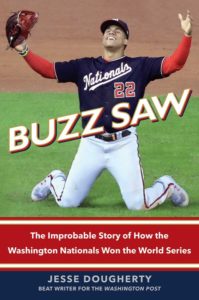 Last fall, something magical happened in DC. The Washington Nationals, who had started the 2019 baseball season with the pathetic record of 19-31, beat the odds to make it to the World Series. They dispensed with formidable opponents along the way, notably the Milwaukee Brewers and the Los Angeles Dodgers, leading to a World Series against the Houston Astros, who had one of the best records in baseball and a scary lineup of ace pitchers. Buzz Saw: The Improbable Story Of How The Washington Nationals Won The World Series, written by Washington Post Nationals beat reporter Jesse Dougherty, chronicles the 2019 season from sad start to glorious finish, delving along the way into the personal histories and unlikely plays that made the Nats' journey even more meaningful and historic.
Why I picked it up: I am a huge Nats fan, and I can't resist any chance to relive the 2019 postseason. It was amazing!
Buzz Saw goes month by month through the baseball season, explaining how unexpected the streak was. The Nats had the oldest roster in MLB, with some players who had considered retirement before getting picked up by Washington. Some were overcoming injuries from the season before. And there were also young stars on the team, like Victor Robles and Juan Soto, who brought explosive raw talent to the Nats. As the wins piled up, the team worked to overcome its most glaring deficiency – the bullpen – trying different combinations and bringing in Daniel Hudson to offer relief to overworked starters like Max Scherzer and Stephen Strasberg.
And then, of course, came the postseason, the many elimination games, the come-from-behind wins, the heroics of Howie Kendrick and Juan Soto and the clutch pitching. Ah, it was all so good! And so unexpected. And so much fun to experience. Buzz Saw brings it all back. And in a summer without baseball until just a few weeks ago, it was a great reminder of a season that feels like a lot more than 9 months ago.
I read Buzz Saw out loud with my son, so I guess I read it and did it on audio. The narration (me) – not great. The book is well-written. I like Dougherty's writing style a lot – lively and descriptive. Overall, this was a really fun read.
So would you care about this book if you weren't a big Nats fan? Hard to say. If you're a hardcore baseball fan and/or enjoy underdog stories, then you might enjoy Buzz Saw as much as I did.
Buzz Saw was Book #32 of 2020. It satisfies the Book About Sports category of the 2020 Everyday I Write The Book Reading Challenge.