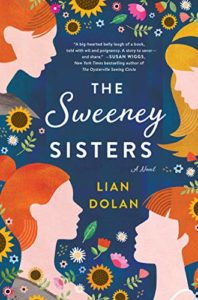 People taking DNA tests and discovering that their biological parents are not who they thought they were is becoming more and more common with the availability of DNA kits, so it was only a matter of time before this fact pattern showed up in fiction. The Sweeney Sisters by Lian Dolan is a recent entry into this category. When William Sweeney, a famous novelist living in Connecticut, dies in his 80s, he leaves behind three daughters (Liza, Maggie and Tricia), a memoir that was promised to his publisher but can't be found, some shaky finances… and a fourth child that his daughters didn't know about. Turns out that he had had a relationship with the next door neighbor and fathered a daughter, Serena, who is two years older than Liza. The Sweeney Sisters is about how the original Sweeney daughters cope with their father's unexpected death and the discovery of a fourth sister.
Why I picked it up: I learned about The Sweeney Sisters on a William Morrow Summer Book Preview event on Facebook and requested it from the publisher because I liked the premise.
I found The Sweeney Sisters to be a pleasant read about rich white people problems. The sisters make fun of each other, but they are generally supportive and get along well. Liza's perfect life is not as idyllic as it seems, and Maggie's is a bit of a mess, but honestly, the conflict here is all pretty gentle and doesn't seem to affect anyone too much. William Sweeney is a larger-than-life character whom Dolan nonetheless paints in realistic detail, from the plots of his famous books to his speaking engagements, famous friends and ego-fueled infidelities and betrayals. Poor Serena, meanwhile, whose life has been upended, is generally ignored by the Sweeney sisters, who try to like and accept her into the family but are so focused on each other that they have trouble remembering she exists.
I commend the author for creating a very realistic world with flawed characters and plausible situations. But in the end, The Sweeney Sisters was just an OK read for me. I just didn't care that much about what happens. I was invested just enough in the story to keep going and finish, but it was easy to put the book down and pick up something else.
I listened to a lot of The Sweeney Sisters on audio. The narration by Brittany Pressley was pretty good: precise and emotive without being too dramatic. I liked her as a narrator; I just didn't love the book.
The Sweeney Sisters was Book # 33 of 2020.