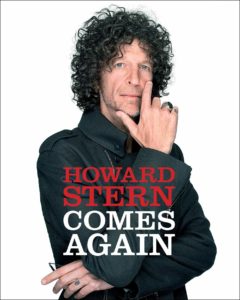 I've never been a regular Howard Stern listener. Long before he got to Sirius XM, Stern made his terrestrial home here in DC in the early 80s on DC-101 and I used to listen occasionally, but I rarely tune in to his satellite show. He doesn't offend me, but for whatever reason, I never got on the bandwagon. I also never watched America's Got Talent, so I didn't witness his rebirth as a kind, encouraging judge/coach on that show either. So I came to Stern's recent book Howard Stern Comes Again, a collection of his most influential interviews, with a mostly blank slate.
Why I picked It up: I was intrigued by Stern's take on the interviews he's done, as well as the content of the interviews themselves. I actually paid money for this one in the bookstore!
In the intro to Howard Stern Comes Again, Stern talks about his evolution as a radio personality. He started out as a shock jock, and continued that tradition at Sirius. It wasn't until later in life that he softened a bit, becoming more introspective and overall kinder to his guests and to himself. Looking back now, he regrets the way he treated some of the people who came on his show and the wasted opportunities to have deeper, more meaningful conversations. The interviews he has collected in Howard Stern Comes Again are all ones in which he felt he made a real connection with the other person, learning about them and himself in the process. The people he interviewed are mostly comedians and actors, like Tracy Morgan, Jimmy Fallon, Chevy Chase, Gwyneth Paltrow, Chris Rock Amy Poehler and Jon Stewart, but he also talks to musicians (Ed Sheeran, Billy Joel) and real estate mogul/reality TV/president types (ugh).
Howard Stern Comes Again was my blow-dry book, the one I read while drying my hair in the morning. It's the perfect book for that purpose, as I could get through about one interview every day. I enjoyed my mornings with these celebrities, getting to know them a little better. Stern probes his guests on the topics he himself grapples with – perfectionism, depression, mortality – which leads to honest, revealing and often surprising conversations.
My guess is that I am the ideal reader for Howard Stern Comes Again – I hadn't heard any of these interviews before and I got to experience the new, improved Howard 2.0 fresh, without it dredging up memories of the old version (though some misogyny does sneak into his interviews, and he loves to bring up sex whenever possible). Overall, this was a worthwhile read and I am glad I picked it up. I learned a lot about a lot of people.
Howard Stern Comes Again was Book #34 of 2020.