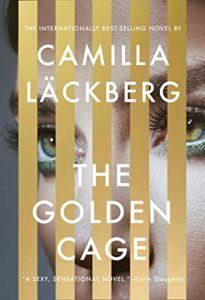 The horrible husband/emotionally abused wife fact pattern is pretty common in domestic thrillers these days, and Camilla Läckberg's The Golden Cage squarely fits the bill. Faye is a woman in her early 30s married to Jack, a successful businessman. They live in Stockholm with their young daughter. Faye, once a promising business student, helped Jack launch his company but now stays home, at his insistence. When she discovers that Jack has been having an affair and wants a divorce, she first laments the loss of her old life, but then vows revenge. The Golden Cage is about Faye's rediscovery of her confidence and business instincts and her campaign to take down her ex-husband.
Why I picked it up: Sometimes I just can't resist a thriller. I was in a bit of a reading slump and needed a jumpstart, and The Golden Cage seemed like it might do the trick. (It did.)
I read The Golden Cage in 2 days, which is really unlike me, as I am a slow reader. I had a hard time putting it down. It's dark, sexy and fast-paced, and Läckberg knows how to keep a story going. I needed to know how Faye was going to get the best of Jack. That said, there were some things that didn't sit right with me. (WARNING: SPOILERS AHEAD) Faye does some pretty unconscionable things in the book, which makes her a lot less sympathetic in the end. I was rooting for her, but also horrified by her at the same time. It was also hard to reconcile Married Faye with Wronged Faye, as the former was such a doormat compared with the latter. And finally, her path to financial success post-divorce was dubious.
That said, The Golden Cage was a good palate-cleaner and got me back into reading mode and able to finish another book that I had been stalled in for a week or so.
The Golden Cage was book #44 of 2020.